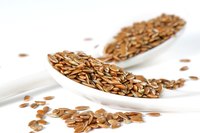 Flaxseeds are full of beneficial nutrients and are simple to add to a variety of dishes. To get the most out of your seeds, store them to maximize freshness, and grind them before use.
Nutrition Benefits
In addition to being rich sources of fiber and omega-3 fatty acids, flaxseeds have nutrients that are beneficial for preventing diabetes, autoimmune disorder and high cholesterol. The phytonutrients in flaxseeds may also help prevent cancer, and the fiber in the seeds can help keep you fuller, managing hunger pangs and improving weight control.
Whole, Ground and Oil
There are three main ways to eat flaxseeds: whole, ground or as an oil. Whole flaxseeds have a thick, tough outer hull that is difficult to break open when chewing because the seeds are so small. Thus, most whole seeds pass undigested through the body. Flax oil has all of the healthy unsaturated fats from the whole seeds but none of their fiber or protein, which makes them a less balanced choice. To get the most nutrients from flaxseeds, grind the whole seeds before eating them, which will make them much easier to digest.
Preparation and Storage
Keep all of your storage containers and appliances clean and dry while using them with flax. You can use a clean, dedicated coffee grinder, a food processor or a mortar and pestle to grind the seeds, but make sure all equipment is dry. Any type of moisture or condensation in a container or appliance can make the flax gooey.
To optimize freshness, store ground flax in an airtight container in the refrigerator or freezer. Heat, light and oxygen exposure all cause the healthy unsaturated fats in flax to break down over time. You can also buy whole seeds and grind them in small amounts as you use them. Whole flaxseeds may be stored at room temperature for up to a year.
Drink Up
Flaxseeds provide the same health benefits in a beverage as they do when ground and dry. Combined with liquid, ground seeds thicken the texture of the mixture and give it a gelatinous quality, which is why ground flax is sometimes used as an egg substitute in vegan recipes. A smoothie or drink that contains ground flax will thicken more with time, so if you plan to add flax to your shake, drink it immediately, or prepare it without the flax and then mix in ground flax right before you drink it.