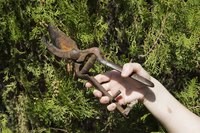 Cleaning pruning shears starts with wiping it off and using a lubricant to prevent rust, but it needs a little more to remain disease-free. Disinfecting the shears after each use helps prevent the spread of disease between plants in your yard. Caring for the shears properly extends their life, helping them stay sharp and make clean cuts.
Problems with Dirty Pruning Shears
Although your pruning shears might not look dirty after one use, they probably are. The cutting surfaces gather tiny particles of sap, bark and dirt as well as bacteria that cause disease. If you don't get the dirt off the blades first, you can't completely sanitize them because the dirt and debris keeps the disinfectant from reaching some areas of the blade.
Cleaning Off Dirt
To clean dirt, sap and other debris off the pruning shears, rub them vigorously with a dry, thick cotton cloth. If that doesn't remove all the visible dirt, dampen the rag with water or a small amount of paint thinner and clean the shears again. Drying the shears thoroughly with a cotton cloth helps prevent rust from forming. Cleaning this way between each plant you prune gives the sanitizing solution the best chance to kill harmful bacteria.
Sanitizing the Shears
Basic cleaning isn't enough to keep the shears from spreading disease throughout your garden. Pruning shears are more likely to spread bacteria- and virus-borne disease than fungal infections, according to Washington State University, by pruning a diseased plant and moving directly to a healthy one. After you clean the shears between each plant, take a few extra minutes to sanitize them as well. Let them soak for about five minutes in a full-strength household disinfectant or a solution of 1 part bleach or pine oil cleaner and 3 parts water. Dry them with a clean cloth before moving on to the next plant.
Helping Prevent Rust
Even if you carefully dry your pruning shears after each cleaning, rust can develop over time. Help prevent rust by adding a step to your final cleaning of the day; you don't need to do this between plants, only when you're preparing to return the pruning shears to your garage or garden shed. Coat the shears with a spray lubricant, or mix your own lubricant using 2 parts motor oil and 1 part kerosene. Pouring the mixture in a spray bottle lets you spritz the shear blades. Wipe the blades with a cotton cloth, removing the excess oil but leaving a thin protective coating.