Bring the outdoors into your sunroom, regardless of temperature or rough weather, with the biggest windows the architecture can handle and decor that invites you to look outside. A sunroom that's well insulated can be used as a casual living space year-round, but it shouldn't look like a day at the beach in mid-winter. Establish a basic personality for the room and change some decor elements to adapt it to exuberant spring and elegiac fall with colors and textures.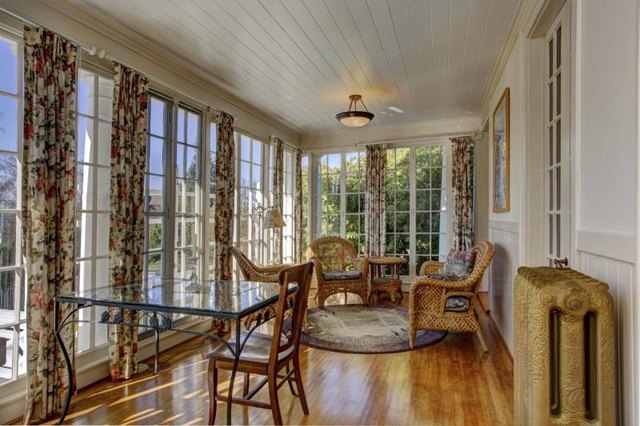 (irina88w/iStock/Getty Images)
The seasonal greenery and the falling leaves and snow create a dynamic cinema outside sunroom windows. Accommodate all the changes with a crisp interior decor that coexists with the shifting colors and conditions outside. Stick to black and white for a sharp-looking proscenium -- the place before an ancient stage -- to frame the backyard vista. Limestone pavers or polished concrete floors are spare, as are white walls, enormous windows and a white or dark-beamed ceiling. Soften bold black-and-white striped cotton canvas furniture covers by gray-and-white striped throw pillows and a couple of lacy wicker peacock chairs. Shiny black or white enamel coffee and end tables, black lamp bases with white shades and a single explosion of brilliant color in a vase of cut flowers takes a back seat to the all-important view.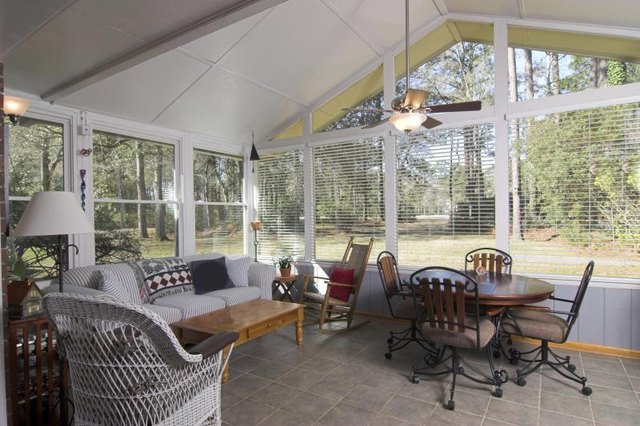 wollwerth/iStock/Getty Images
Expand the kitchen into the backyard and create a hybrid sun room-chef's solarium for everyday meal prep and dining. Insulate the space with underfloor heating, large thermal windows, skylights and Southern exposure, if possible. Install paver floors for a touch of rustic outdoors and keep cabinets natural wood or paint them a soft color from nature's palette outside. Sage, buttercream, pebble-gray or pale mushroom offer good choices as nearly neutral colors for built-in cabinets and window frames. A big farm table in light wood provides plenty of seating for family and company. Treat the room as an open plan space and add a comfortable conversation area and a stone fireplace -- an all-year hang-out with a blazing winter hearth.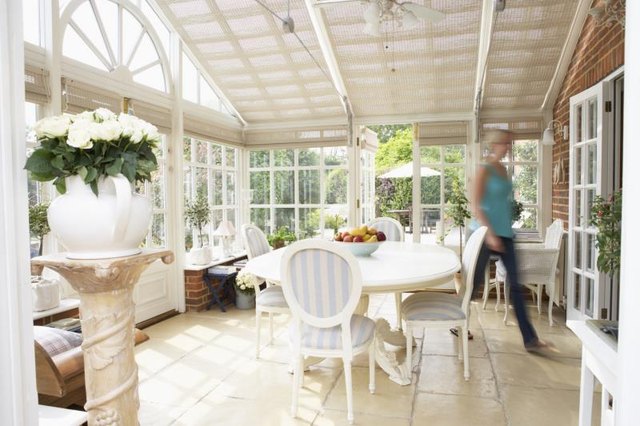 Catherine Yeulet/iStock/Getty Images
Slipcovers are your secret weapons. Furnish a sunroom with squashy, comfortable sofas and chairs and carpet it with vibrant colors and interesting textures. But you can adapt your all-year space to the seasons with a simple change of fashion. Replace the faded gem-tone velvet slipcovers with cotton chintz or white denim in summer. Swap out the cozy oriental carpet for a summer sisal rug that's more forgiving of feet wet from the backyard pool. Pop a giant white-paper globe shade over the bare bulb of pendant lamp and store the colored glass shade in the garage until the leaves begin to fall in autumn.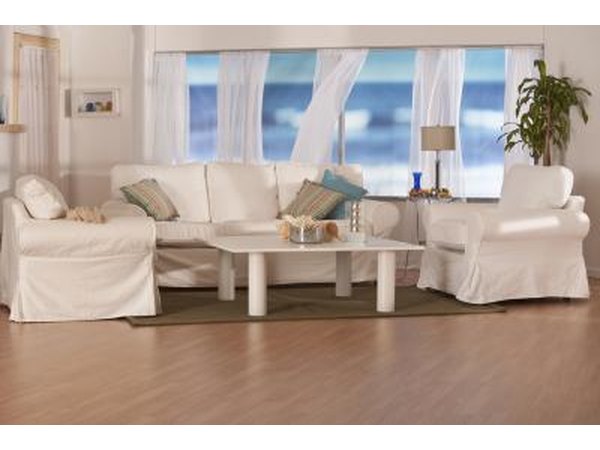 Comstock Images/Stockbyte/Getty Images
If you have just a sliver of a sunroom, keep it simple. The narrow front porch enclosed to be a year-round solarium is elegant in a monochrome treatment, cluttered in eclectic colors and styles. Paint the walls, floor and window frames glossy white, palest smoke-gray or straw. Put grass-mat carpet over it in summer and exchange for a bleached-out rag rug in winter. Set a love seat, painted to match the walls and covered in pale-patterned fabric of the same color against the wall at one end of the room. A single chair and a couple of painted stools with cushions provide seating without taking up much space. Re-purpose a small trunk as a coffee and snacking table with a storage bonus for extra cushions, winter throws or serving dishes. Use textiles that take up no room to celebrate the seasons: plaid blankets tossed over the love seat in winter; leafy decorative throw pillows for summer; hand-woven ethnic fabrics hung between the windows to add cool-season warmth and a filmy sari or length of sheer net draped over one window to cut summer glare.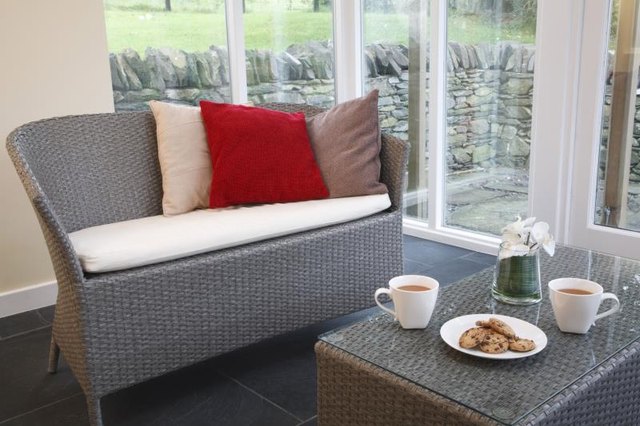 PaulMaguire/iStock/Getty Images
Promoted By Zergnet