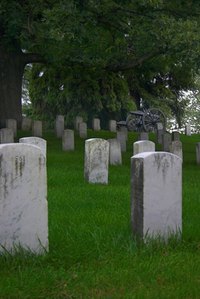 You need a business plan, a realistic marketing strategy and financing to start a successful monument company. Some companies mass produce gravestones close to the quarries where they extract the granite and ship their products throughout the United States. Other companies have business models which limit the type of monuments they make and restrict shipping to a single state or geographic region to save costs. Monuments are produced for many uses, but most are made for gravestones in cemeteries.
Develop a business plan. Explain the business structure you intend to create and the products you expect to sell. Describe the materials of your products and their range of designs, sizes and finishes. Indicate your intention to shape the stone or buy it already formed so you have only the carving to do. In addition to granite, the most common material used for monuments, you may decide to produce products in marble, slate and bronze.
Decide how you will handle sales, process orders and maintain a website. Explain what your initial personnel requirements are and where you can expect growth as your orders increase.
Prepare the financial information you need to raise funding for your monument company. Decide if want to incorporate and sell shares to investors. You can seek bank financing and try to arrange a Small Business Administration-guaranteed loan. Adequate funding until your business becomes profitable is a critical component of your startup enterprise.
Detail in your plan the equipment necessary for producing each finished product and feature, their cost to purchase or lease, and the labor required to operate them. You will probably need a dust collector, blasting equipment, computer programs, a compressor, in addition to other tools and supplies. State the degree to which your products will be similar and determine if you expect to meet customers' requests for custom products.
Decide where you intend to locate your business. Locating near your supplier of raw materials saves shipping costs. Describe the space you need to produce, store and ship your monuments.
Examine your competitors. Review what products they sell, their price ranges, where they are located, where and how they ship and install their monuments, and what types of advertising they do. Cemeteries can regulate the size, color and style of gravestones, but must accept them from any source. To avoid problems, plan to check each order against the requirements of the place of installation.
Find customers. Determine the geographic area in which you intend to seek customers and devise your marketing strategy to match. Contract with one or more companies that have a national sales force to carry your products. Seek out a selected group of cemeteries and make products that meet their design and price requirements. Advertise directly to families with special offers through religious, fraternal and commercial organizations.