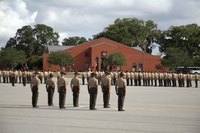 As the U.S. Marine Corps training facility for all recruits east of the Mississippi River since 1915, the Marine Corps Recruiting Depot Parris Island is one of the world's most visited military bases. The facility on the South Carolina coast sees more than 120,000 guests per year, many coming to see the graduation ceremony of a relative or friend. The base is open to visitors during daytime hours, and has several attractions that can be visited by the public, including a museum, historic sites and a golf course.
Getting There
Parris Island lies off S.C. Highway 802, just south of the historic coastal city of Beaufort and 40 miles northeast of downtown Savannah, Georgia. The base is within about 25 miles of Interstate 95. The closest commercial airports to Parris Island are the Hilton Head Airport and Savannah/Hilton Head International Airport, each within 45 miles. The next closest is Charleston International Airport, less than 85 miles away. All three airports have rental car agencies, and several private companies in Beaufort also provide private transportation to and from the airports. Parris Island visitors who arrive by car must present a valid driver's license, vehicle registration and proof of automobile insurance. If you're visiting on Thursday or Friday of a graduation week, expect to wait up to 45 minutes to get onto the base.
Weather and What to Wear
Parris Island has no specific dress code for visitors, but the weather can be extremely hot and humid in the summer months, when average high temperatures reach into the 90s. During summer, dress comfortably in shorts or light khakis, a short-sleeve shirt or a sundress. Spring and fall days are typically pleasant, with highs from the low 70s to mid-80s, but pack a light jacket or sweater for evenings, when temperatures average in the 50s or low 60s. Even in winter, daytime temperatures remain mild, with average highs in the low 60s and lows in the 40s. No matter when you visit, pack plenty of insect repellant. Mosquitoes can be fierce in the summer, and sand gnats or "no-see-ums" are often prevalent in the spring and fall. The rainiest months are June through September, when afternoon and evening thunderstorms are more frequent.
Overnight Options
On-base lodging is available at the Osprey Inn to families visiting recruits for graduation, but only a limited number of rooms are available. Rates are reasonable, but the reservations fill quickly. You can call to make a reservation 15 days prior to the graduation date. Parris Island also has a small RV park with 18 full-hookup sites that are available to guests of graduating Marines. The campground has bathrooms, showers and laundry facilities. In addition, the Marine Corps Air Station Beaufort provides lodging at the DeTreville House, about 10 miles from Parris Island, to the families of recruits. If on-base lodging is full or you'd prefer to stay in nearby Beaufort, the city is home to a number of hotels and historic bed-and-breakfast inns.
On the Island
Once you arrive on Parris Island, your first stop should be the Douglas Visitors' Center, where you can pick up a map of attractions that are open to the public. The Parris Island Museum has free admission and displays that explore the history of the Marines and earlier settlements on the island. You can also visit monuments and markers near the historic sites of Charlesfort and Santa Elena, which were French and Spanish colonies established on the island in the late 1500s. Golfers can play a round at the Legends at Parris Island, an 18-hole course that's considered one of the nation's top military golf courses. Other nearby options include spending a day in charming downtown Beaufort, or hitting the beach and climbing the historic lighthouse at Hunting Island State Park, 22 miles east of Parris Island.