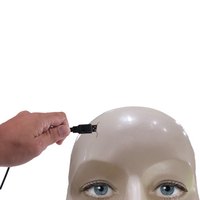 To find software investors, think big and be tough on yourself. Software investors are looking to double, triple or even multiply their investment by a factor of 10. They want a company with a truly innovative software product, a growing market need for that product and a management team they can trust to execute the vision. Most of the time, the only way to meet a qualified software investor is through a personal introduction. Such a thing is possible for anyone, but you must be diligent in your search. Prepare your marketing materials, mock-ups and pitches. Hit the Web and do some serious research into the competition. Go to software industry events. Most of all, be patient.
Things You'll Need
Innovative software product
Access to a large and growing market
Provide a truly innovative software product that cures a market pain. Private equity investors in the software industry seek new companies providing a new and necessary service to a large and growing niche of consumers. However, do not fall under the illusion that your product is the only one like it. If it is a truly great product, you will have competition. Know the market you intend to capture and prepare to build barriers to entry around your customer base.
Know the right people. Historically, the most common way for software companies find software investors is through personal introductions. Investors rely on people they trust to act as filters between themselves and the thousands of software entrepreneurs looking for a piece of the investment fund. According to Guy Kawasaki, a managing director of early stage venture capitalist firm Garage Technologies and author of the blog "How to Change the World", key trust agents include CEOs of investor portfolio companies, established corporate finance attorneys with whom you have already incorporated and fellow investors. You can make inroads to software investment societies by networking online and attending as many industry events as your schedule allows.
Research software investment firms. Angel investors, venture capitalists and venture capitalist firms all have their own ways of doing things. Build a list of investors specializing in funding software companies. Use an investor database that allows you to build a qualified list and narrow search parameters to location, industry preference, growth stage preference and other attributes. Focus on investors whose missions match yours. Find out whom to contact at these firms, and prepare teaser emails for the purpose.
Bait investors. Prepare all your marketing materials in advance and be prepared to publish or show them to investors. Marketing materials include the classic materials required for any new company: comprehensive business plan, investor teaser email, pitch deck or investor slide presentation, elevator pitch and high concept pitch. New software companies should buy all variations on their domain name; produce product mock-ups; create a landing page to stake a niche and gather email addresses; and run surveys and test marketing. These are all a part of your company launch; sometimes the best way to find an investor is to attract one by starting the company without him.
Stay abreast of software industry news. TechCrunch, BusinessWeek Software Startup News, Information Week, FastCompany and Inc. all do an excellent job of presenting the latest insider gossip about the start-up software industry. Subscribe to those and similar publications in a feed reader, along with blogs written by tech thought leaders like Guy Kawasaki and Robert Scoble, a tech evangelist with IT hosting company Rackspace and author of the tech blog "Scobleizer." The more you know about the software start-up industry, the better prepared you will be to meet the right software investors and make the pitch of a lifetime.