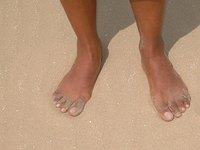 Taking good care of your toenails should be a part of your overall health and wellness routine. Most people know that part of caring for your toenails is making sure they are trimmed every few weeks or so. However, for some people, there can be more to it than that. For example, you might find that you have a significant yellowing of your toenails. Yellow toenails and other problems can be caused by fungi, germs and bacteria that you encounter through day to day life. It can also be caused by nail polish that has not be removed correctly. Proper cleaning can help prevent toenail problems.
Things You'll Need
Warm water
Mild soap
Bath towel
Antifungal medication
Clean socks
Nail polish remover
Nail polish brush
Lemon juice
Baking powder
Toothbrush
Toothpaste
Clean Nails That are Yellow from Fungus
Use warm water and a mild soap to clean your feet and toenails. You should only treat the yellowing issue once your feet are thoroughly cleaned.
Dry your feet thoroughly using a clean bath towel. Fungi that can cause yellow toenails can thrive in moist places, so be sure your feet are completely dry, especially between your toes, after washing.
Apply a liquid or cream toenail antifungal topical medication. These products are available over the counter in pharmacies, or you can obtain a prescription from your podiatrist or general physician. This type of medication will help alleviate the yellow discoloration on your toenails.
Put on clean socks when you're finished cleaning your toenails and feet. Dirty socks can contain dirt and bacteria that will yellow your toenails.
Clean Nails That are Yellow from Nail Polish
Remove all of the nail polish with nail polish remover. Scrub your toenails with a nail polish brush to remove as much of the yellow color as possible.
Make a paste out of 1 tbsp. of lemon juice and 1 tbsp. of baking powder by stirring them together.
Place a drop of the paste you made onto the middle each one of your toenails. Buff the paste into the nails with an old toothbrush and then rinse off the paste when you are finished.
Rub toothpaste onto your toenails if there is any yellow coloring remaining. This will also add shine to your toenails.