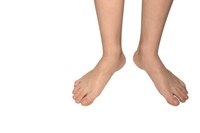 Toenail fungus, also called onychomycosis, is a condition where fungi attacks the nail. According to Mayoclinic.com, the nail infection may begin with a white or yellow spot under the tip of the nail. The two most common types of fungi affecting the skin are dermatophytes and yeast infections. Symptoms include thick, brittle or ragged nails. Nails may turn dull or dark, have an odor, itch or even become painful. Almost 40 million Americans suffer from this condition, which leaves many wondering how to get relief.
Things You'll Need
One cup Listerine mouthwash
One cup apple cider vinegar
Airtight container
Cotton balls
Bandaging tape
Soft towel
Mix one cup Listerine and one cup apple cider vinegar in a container that has a lid.
Saturate one cotton ball in the solution.
Apply cotton ball on the infected area.
Use bandage tape to keep the cotton ball in place on the area for at least 45 minutes.
Remove and dispose of bandage.
Scrub the area gently with a clean cotton ball dipped in solution.
Thoroughly dry area with a dry towel. Repeat daily.