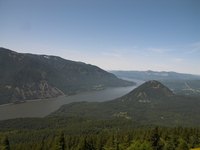 The Dave Matthews Band, Tom Petty and the Heartbreakers, Van Morrison, Neil Young, Aerosmith, The Police. What do these popular music groups have in common? They've all performed at The Gorge Amphitheatre in George, WA. The Gorge is an outdoor music venue overlooking the Columbia River. It accommodates 25,000, with both lawn and pavilion seats. For many fans, attending a show at The Gorge includes staying overnight at the adjacent campground facility. Proper planning will make the camping experience more enjoyable.
Things You'll Need
Ice.
Water for drinking, and other beverages.
Food that does not require cooking - no camp fires allowed.
Sun screen.
Rain gear.
Cold weather gear.
Toilet paper.
Soap.
Antibacterial gel or wipes.
Comfortable shoes.
Ear plugs.
Sleeping bag.
Air mattress or cushion recommended.
Tent or camper.
Additional shade structure - there are few trees at the camp site.
Check availability in advance. Space is limited. General, premier and terrace campsites are available. One vehicle is allowed per campsite. General camping sites are back-to-back in a wide field, mainly for tent camping. Showers are available for a fee. Premier sites offer more privacy, include the use of the shower facilities and are larger to accommodate campers, RVs and travel trailers. Terrace camping sites are the closest to the Amphitheatre, with concierge service, free coffee, more privacy and quieter surroundings. There are public bathroom facilities throughout the camping areas; some toilets are portable. Toilet paper and soap are provided but the supply does run out occasionally.
Check the weather forecast. If hot weather is forecast, consider bringing a larger amount of drinking water and sunscreen. The Gorge Campground is devoid of shade so in addition to a tent or camper, a pop-up shade structure is recommended for shelter from the sun. No matter what the forecast, a waterproof tarp and raincoats should be packed, along with a heavy coat. Early mornings along the Columbia River can be quite cool, and the weather can change quickly. Be prepared.
Plan for comfortable camping. Air mattresses or cushions are recommended for tent campers. The campground can be rowdy at night, with lots of parties and music, so ear plugs can help ensure better sleep. No campfires are allowed, so plan your menu accordingly.
Be ready to go to the show. The campground is a fair distance from the amphitheatre. While a shuttle runs from the Premier camping area to the venue, most campers walk over via a private path. Bring comfortable shoes and clothing for this hike. Carry a water bottle to sip along the way, empty water bottles can be taken into the concert and refilled inside. No beverages can be carried in, but drinks can be purchased inside the Amphitheatre. Food in clear plastic bags can be brought inside. If sitting on the lawn, bring blankets or low line beach chairs.
Note the address and opening hours.
The Gorge Campground is located at: 754 Silica Rd. NW Quincy WA 98848 509-785-6262
The campground opens at noon the day before a scheduled event, and closes at noon the day after the event ends.