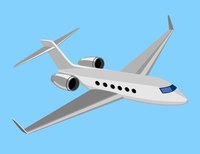 The business class on airlines falls, in fare and location, between the first class and the economy class. It is less luxurious than first class but superior to economy class. In the past this type of fare was traditionally purchased by traveling business people. Although people in business class all receive the same treatment and services as each other, they may not have paid the same fare. In fact, if you plan ahead, you may be able to get an upgrade from economy to business class for free.
Book with a travel agent. If possible, ask the travel agent to leave notes on your account stating that you are open to giving up your seat and being upgraded. In addition, don't be afraid to share your special authorities or statuses. For example, if you are the president of a large company or a well-known singer or actor, let the airline personnel know and they may decide to upgrade you for free in order to develop a special relationship with you and attract further business.
Dress to impress. The people that fly in first class and business class seats may expect from their servers and fellow companions a higher standard of dress and behavior. This means your chances of getting upgraded could be diminished if you are wearing casual or athletic clothes. You may feel a little silly putting on a suit for a flight, but you could also find yourself laughing when you get a free upgrade.
Ask nicely at the check-in counter. If the flight is about to depart and there are empty seats available in business class or first class, airline personnel sometimes have discretion to upgrade your seat for free. Don't expect the extra, but be grateful if you do get rewarded. Also, if you want to try for a free upgrade this way, make sure that your coach ticket is a type that allows for upgrades. Not all tickets can be upgraded.
Check in early. All else remaining equal, if there are two people requesting to be upgraded, the first person to ask will likely get it. Show up early and explore your options.
Volunteer to give up your seat or flight time. If seats in economy class have been overbooked, volunteer to give up your seat because the airline may return the favor by upgrading you to a higher class if seats are available on the next flight. Similarly, if the flight is overall overbooked and you are not pressed for time, volunteer to go on the next available flight.
Let the airline personnel know of any issues you have with your seat. If you have a malfunctioning seat or have a legitimate issue with someone that you are sitting next to, let the service people know. If the only other free seats are located in business or first class, you may get upgraded for free.