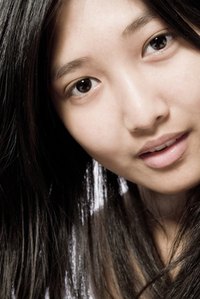 Asian skin has more melanin than Caucasian skin, making it less susceptible to the sun's harsh rays. Asians do not demonstrate signs of aging as quickly as light-skinned Caucasians due to this built-in sun block. This means less age spots, sagging and wrinkles for Asians. While Asians are not as likely to burn in the sun as Caucasians, their skin will still darken, or tan. To prevent the darkening of Asian skin, vigilantly apply products containing SPF before going out into the sun.
Things You'll Need
One bottle of general-use sunscreen
One bottle of facial sunscreen
Select Sunscreen
Look for general-use sunscreen that contains an SPF of 30 or higher and guards against both UVA and UVB rays. Key ingredients the sunscreen should contain include oxybenzone, sulisobenzone, avobenzone, ecamsule, titanium dioxide or zinc oxide.
Look for sunscreen labeled "water-resistant."
Select a container of sunscreen specially formulated for the face. Look for a sunscreen containing SPF of 50 or higher and guards against UVA and UVB rays. Facial sunscreens are less likely to cause breakouts and clog pores.
Apply Sunscreen
Apply 1 oz. of sunscreen to any areas of the body that will be in the sun 30 minutes prior to going outside; 1 oz. of sunscreen is equal to one shot glass.
Apply 1 tsp. of facial sunscreen to the face and neck 30 minutes prior to going outside.
Reapply facial and body sunscreen every two hours. If you are at the pool or beach, reapply after getting out of the water each time.