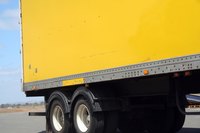 Packing a moving trailer is a challenging and calculated undertaking, and proper packing of a moving trailer ensures the safety of your belongings when traveling. Maximizing available space and utilizing clever packing techniques can ensure a safe and enjoyable move for you and your belongings.
Pack your household items in boxes with proper padding and protection such as bubble wrap, newspaper and dish towels. By confining odd-shaped items into proper boxes, packing the trailer with uniform methodology becomes much easier. By padding your fragile items such as dishes and lamps, not only do you simplify the packing process, but you protect those items during their time on the road.
Choose a trailer size that reflects the amount of possessions you plan to move. Rental companies offer a variety of sizes and a general scale-chart depending on the rooms in your current home. Account for couches and sofas, chairs, dining room furniture, appliances, and packed boxes and select a trailer that will best suit your needs.
Pack large furniture first. Couches, beds, mattresses, dressers and vanity, dining room tables and large cabinets. Approach the packing with a clever eye and notice opportunities to safely stack and tuck items to maximize space. Use mattresses to safely protect fragile items such as televisions and computer monitors, and to act as a makeshift buffer between items that may easily scratch and dent, such as end tables or dressers.
Pack boxed items after the large furniture items to avoid allowing the heavy furniture from sliding and crushing the boxed items. By encasing the heavy items in the back of the trailer, and following them with general boxed items, you create a safe buffer between the door of the trailer and the heaviest items. Save fragile boxes to pack furthest from the heavy furniture items to increase safety.
Pack softer items such as bed sheets and blankets, clothing and miscellaneous items last. Allow the softer items to create the final barrier between the door of the trailer and the fragile items for safety.