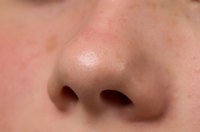 Whiteheads are not easy to eradicate, but keeping them clean will prevent them from getting infected. Sanitize these small, pearl-looking whiteheads, and fight excessive oil build-up on your face by cleaning your skin daily. Cleaning your bumps might the reduce redness and soreness typical of whiteheads. As blackheads and other types of acne often accompany whiteheads, cleaning will help to dry up these problem areas as well.
Things You'll Need
Gel-based cleanser
Cotton washcloth
Towel
Exfoliating scrub
Toner
Oil-free moisturizer
Wet your skin with cool to warm water. Squirt a dime-sized amount of gel-based cleanser on your clean fingers.
Rub the cleanser on your face. Dampen your washcloth, and wring out excess water.
Rub your skin in a circular motion with the washcloth. Rinse your skin with cool to warm water, and pat your skin dry with a towel.
Apply a dime-sized exfoliating scrub to your face, especially your whiteheads. Use a facial cleansing pad to scrub your skin clean, and rinse the scrub from your face. Do this twice a week.
Dab toner on cotton balls. Rub the whiteheads with antiseptic toner to clean your bumps.
Squirt a pea-sized amount of oil-free moisturizer on to your hand. Spread the moisturizer on your face and neck.