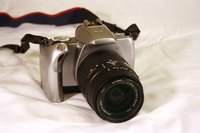 Opening a photo studio can transform a passion for photography into a business. Some photography studios make a sizable portion of their income from wedding photography. In addition photo studios also generate revenue from event, portrait, family, modeling, journalistic, commercial and other forms of photography. A photography studio requires a skilled photographer and some decent equipment. The photographer should have a portfolio before opening the studio so that perspective clients can see they are experienced.
Create a business plan. A business plan is a comprehensive document that details how the business will start up. What the budget will be, revenue sources and marketing details. It is a road map the business will follow for success. Determine what the start up and operational costs will be based on an initial budget. The budget will determine what equipment can be purchased. In the marketing plan portion of the business plan decide on a business name and determine where the bulk of the revenue will come from. Conservatively estimate revenues when you begin.

Purchase equipment. The photographer will need one or two digital single-lens reflex (SLR) cameras, lenses, stands and tripods, a light kit-which usually contains three lights-an extra flash, memory cards, a professional printer, a graphic-editing computer with photo-editing software, backdrops and a stand to hold them. If the budget allows, two cameras are better in case one fails. Most photography studios also do videography. Purchasing a high quality HD (high definition) camera, tapes, camera light and microphone is a good idea. Depending on the HD camera some use 8mm DV tapes and others include an internal hard drive. It's easy to get carried away, so remember to stay within your budget.

Decide on the type of studio. A photographer may choose to rent studio space, share studio space with another photographer, or work from home. The determining factors will be price, convenience, size of space needed, and professional appearance. The photographer should determine how much space they will need to store all their equipment before selecting a space. If the photographer works from home they need dedicated space. In addition, a home studio is still a studio and needs to be professional. Children's toys, laundry and other "home" items have no place inside the studio and can make the photographer look unprofessional in front of clients.

Read the rental agreement. If renting a studio, there are some key points to look at in the rental agreement. Can the studio be accessed 24/7? Does the landlord provide insurance or a security system? What utilities, if any, are you responsible for? Can the studio be sub-leased to other photographers? What is the length of the lease? Will the rent go up when the lease is up? Be sure to iron out these details before signing.
Set prices and take deposits. Photographers prices vary. They are not fixed. The relationship with the client, season, availability of work, experience of the photographer all play a role in determining price. Many photographers work either by the hour, by the shoot, or by the day. If working by the hour, all the factors-rent, equipment, time-need to be taken into account. Most professional photographers will not charge less than $50 an hour for their work and many charge by the shoot. For example, a standard wedding package, which includes rehearsal, ceremony and reception, can be billed between $1,500-$3,000. Video always adds to the price. Photographers should ask for a security deposit from clients, usually between 25 to 50 percent of the total fee. Ask the client to sign a contract with the agreed upon price before proceeding with the job.

Market the business. Get business cards, attend bridal shows, make friends with event planners and get your name out there. Tell everyone you know and meet that your studio is open for business. Most photographers get the bulk of their business from referrals, which is why making connections is so important. A good website with a detailed portfolio on it goes a long way.