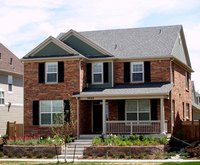 A mortgage transfer is when your current mortgage lender transfers servicing rights on your mortgage to another lender. When you obtain a mortgage, you will sign a variety of loan documents, one of which is a mortgage transfer and servicing agreement. Your lender may participate in mortgage transfers, and this will be disclosed in your mortgage servicing transfer agreement. In a mortgage transfer, your original mortgage lender is still bound by the loan note, but the new lender will handle payments, collection activity and escrow matters on your loan. To stop a mortgage transfer, you will have to pay off your mortgage.
Things You'll Need
Mortgage note
Recent home appraisal
Paycheck stub
Proof of all income
Tax returns
Current mortgage transfer agreement
Contact your mortgage lender and ask whether it services the mortgage loan for the full contract or whether it participates in mortgage transfers.
Refinance your mortgage with another lender to stop the possibility of a transfer. Unless you have the ability to pay off your mortgage yourself, you will have to refinance your mortgage to stop mortgage transfers. You may know of mortgage lenders in your area. Also, the website Local City Mortgage offers a list of mortgage lenders (see Resource).
Review your current mortgage paperwork with your potential future lender to ensure that is the best financial option for you. With the new mortgage lender, your payment amount, interest rate and term can change. While the lender will not be transferring your mortgage, you want to ensure that the refinancing will not affect your ability to pay for your house.
Complete and close your loan. After approval for your refinancing, your new mortgage lender will schedule a closing in which you will sign all your loan documents, one of which is your transfer and servicing agreement. Your new lender will pay off your current lender so your mortgage will no longer be transferred to any other lender. Your new lender will originate and service the mortgage for you.