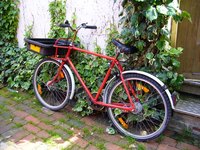 Pick up food cooked by area restaurants and deliver meals, for a fee, to local businesses for lunch. This is a simple idea requiring some skillful marketing and advertisements in order to generate a customer base, along with convincing area restaurants to participate. Lunch delivery services must supply the plates, napkins and eating utensils, just like carry-out restaurants. In addition, business considerations include delivery vehicles, gas, delivery drivers and a method to keep food cool or hot in transit.
Things You'll Need
Make a business plan and establish the amount of money in your budget for advertising. Create brochures, a website, business cards, newspaper advertisements and coupons for a grand opening. Make each of these marketing devices a coupon and offer a half-price deal for new customers or give a dozen free cookies with each new order.
Join your local chamber of commerce and start attending meetings, helping on committees and attending the chamber's sponsored events. An area chamber of commerce makes an easy marketing tool. Use yourself as a walking advertisement and make chamber members aware of your service. Have brochures at the ready with restaurant listings and fee guidelines.
Employ, if possible, delivery drivers to allow yourself time for building business relationships. Introduce yourself to local business owners with a brochure, business card and price list in hand. Take the blame when an order goes wrong. Regardless of whether the restaurant made the mistake, apologize, in person, to your customers and bring a gift like a dozen cookies. Again, you are the best advertisement and word will spread how you take care of your customers.
Plaster your business name and contact information on every available piece of material. Delivery bags, paper plates and napkins all make great ad spaces. New businesses need every possible customer, so leave no blank space. Staple business cards to every delivery bag and make sure businesses remember your name.
Send coupons and brochures in the mail to area factories, college campuses, hospitals and other large businesses. Publicize a contest in your mailings and offer one free lunch delivery to the winner. Make sure each contest participant fills out contact information so you can follow up with mailings and other promotional tools. Advertise the contest, if allowable, on bulletin boards situated in these large businesses.
Install a computer software system to keep track of your customers in a database. Ask new customers how each heard about your business. Make a note if the customer discovered your service from direct mail, word-of-mouth, newspaper advertisement or the Internet. Linking the software system to your database will help you determine which advertising methods are working and what's not.