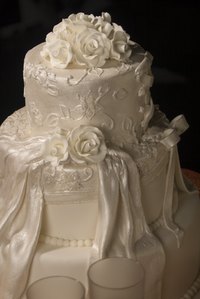 Cakes, large and small, seem to have become a trend of their own, with television programs, magazines and books dedicated to them. Whether you aspire to produce designer cupcakes, emulate your grandmother's home-baked delights, or produce large, lavishly decorated cakes for weddings and other celebratory events, your business will have the best chance of succeeding in British Columbia if you pay careful attention to the planning process.
Consult with business experts to get advice and information on setting up a business in the location of your choice in British Columbia. Small Business BC is a useful starting point for anyone wishing to set up a business. They can assist you with a feasibility study to determine the viability of opening a cake business in your chosen location, and help you create the strong business plan that you will need if you hope to secure start-up grants and loans. They can also advise you on business structure and taxation.
Small Business BC 82 – 601 West Cordova Street, Vancouver, British Columbia, V6B 1G1 604-775-5525 smallbusinessbc.ca
Reigster your business with the British Columbia One Stop Business Registry once you decide what structure of business is best for you. Sole proprietorships, corporations and other business structures all have their own specific tax advantages. Consult CanadaOne to get help in deciding what is best for you.
OneStop Business Registry PO Box 9431, Stn. Prov. Govt. Victoria, BC V8W 9V3 877-822-6727 bcbusinessregistry.ca
Contact the local municipality in British Columbia to check that you comply with its business zoning ordinances and what licenses and permits you will need. As a food producer, the local public health department will have standards with which you must comply, in addition to the standard business licensing requisites you will need.
Calculate start-up costs and the ongoing costs of running a business. Include costs of equipment, transportation, supplies, rental or lease, utilities, staff, marketing, permits and licenses. To deliver consistent results you will need commercial equipment. Dependent upon the types of cake you will make you will require commercial ovens, mixers, baking trays, baking tins and a range of decorating tools. These can be sourced from a number of commercial suppliers.
Contact the Canada Revenue Agency and the British Columbia Ministry of Revenue to register your business and find out what your tax obligations are.
Canada Revenue Agency 1166 West Pender Street Vancouver BC V6E 3H8 800-959-5525 cra-arc.gc.ca
Ministry of Provincial Revenue Customer Service and Information Branch Suite 800 360 West Georgia Street Vancouver BC V6B 6B2 800-663-7867 fin.gov.bc
Create a products list. Compare the prices your competitors charge for their products and try to price yours favorably but with a margin to allow you to make a profit. If you have a storefront you will get passing trade, if you do not, you will have to rely on other ways to get business. With a limited marketing budget, start by offering your services to family and friends and getting word-of-mouth recommendations. It is also a good idea to join your local chamber of commerce and network with other related business owners such as event planners, party supply stores and florists to cross-promote each other's businesses. Attend bridal fairs and other promotional events. Additionally, use Internet social networking to promote your business. Join Twitter and offer small promotions like free cupcakes to the first 20 customers.
Practice baking your products until you get consistent, sellable results each time. You cannot afford to waste money by producing inconsistent cakes that nobody wants to buy.
Attend cake artistry trade shows to keep up with design trends and get new ideas. Fashion and bridal magazines will give you ideas as to the color trends for coming seasons.