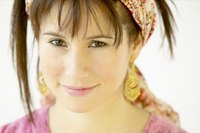 Trendy hippie headbands, inspired by 1960s-era hippies fashion, have become popular again. This fresh look can be worn with several skinny banks layered together or one worn alone. These headbands look great with a soft summer dress or a casual pair of jeans and tank top. The addition of one of these headbands to your outfit will easily upgrade your style to a cool boho-chic, while giving you the added bonus of pulling your hair back.
Things You'll Need
Headband
Hair pin
Hairspray
Wear a Hippie Headband
Select a hippie headband from an accessories store. You can pick a skinny headband for an angelic, simple look, one affixed with stones, flowers or feathers for a exotic look or a wide, thick headband for a slightly edgy look.
Wash your hair and let it air dry so that any natural waves are emphasized. Apply hairspray to curled or wavy portions to keep the waves in your hair. Brush your hair back from your face.
Slip the headband on so that your bangs or face-framing layers are pulled away. Keep the headband in place with bobby pins if necessary. If you want to use multiple headbands, affix one headband near the hairline, and each headband about a half-inch to inch apart. Use no more than three or four.
Slip on a casual summer dress or a cotton tank top to complete a boho look.