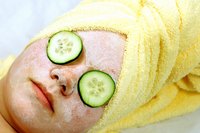 Sebum is a natural oil that is secreted from the body to lubricate and keep the skin healthy. Unfortunately, it is also often the source of breakouts and unsightly pimples. Although it isn't possible to eliminate sebum entirely, it can be controlled through proper cleansing and moisturizing regimens, and by maintaining a proper diet.
Instructions
Clean your face only with products made from natural ingredients. Your facial cleanser also shouldn't be too astringent as this may stimulate your skin to produce more sebum to balance out the harsh product. Products made from natural oils such as jojoba or coconut oil are ideal for washing your face as they are similar to the skin's natural oils but won't block the pores.
Moisturize your skin with creams that are also mostly made from natural ingredients. Natural ingredients won't clog the pores and will also control the amount of sebum that is excreted. Make sure the product you use if ideal for your skin type, as there are lotions made for dry, oily and combination skin.
Exfoliate your skin periodically to remove dead skin cells. Dead skin cells can easily block pores and, when mixed with excess sebum, can lead to breakouts and acne. It is up to you to decide how often you should exfoliate your skin without irritating it. However, it is generally advised that you should exfoliate at least once a week.
Eat only specific healthy foods that don't stimulate your body to produce excess sebum. Stay away from foods that contain saturated fast, such as junk food and fried food, as they can cause your skin to become more oily. Also steer clear of dairy as it is associated with acne outbreaks due to animal hormones that exist in milk products. Eating foods that are high in zinc content can help regulate the sebum excreted from the skin, as zinc helps control activity in the oil glands.
Balance your lifestyle by staying healthy through exercise and reducing stress. High stress levels and anxiety can cause hormonal changes that can prompt your body to produce more sebum.