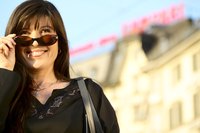 Polarized lenses are sunglass lenses that are laminated with a polarized material. This material helps reflect and reduce sunlight or glare. Oakley, a sunglasses manufacturer, manufactures lines of sunglasses featuring polarized lenses. Oakley polarized lenses should be cleaned as needed to remove fingerprints, dust and lint. Oakley recommends using their cleaning kit to clean sunglasses. Using any other cleaning kit can void the manufacturer's warranty.
Things You'll Need
Rub the polarized lenses using your Oakley micro bag or the streak-free cloth that came with the Oakley cleaning kit. This helps remove fingerprints and dust.
Spray the front of each lens with one squirt of the Oakley lens cleaner. Use the micro bag or streak-free cloth to clean the glasses in a circular motion. Repeat again on the back of the lenses.
Spray a small amount of the lens cleaner on the corner of the cloth. Use the cloth to gently wipe the sunglasses' frames clean.