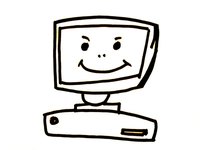 QuickBooks is an accounting program commonly used by small businesses. It permits the creation of multiple company files by a single user. The set-up procedure must be followed in QuickBooks for each company. Then a user can toggle among companies. Each company file is stored in a selected location, which can be the same computer folder. The procedure to create a new company does not delete an existing company. Instead, existing company files remain in their originally saved locations. These company files may be reopened after the set-up procedure is completed for new company files. An open company file automatically closes and all data is saved when another company file is opened.
Creating a New Company
Choose "File" and then "Create a New Company."
Complete the required fields to create a new company.
Click "Next" when the "Create your company file" screen appears.
Navigate to the folder where you want to save the company file when the "Filename for New Company" dialog box opens. Click "Save."
Opening Another Company
Click on "File" and then "Open or Restore Company."
Select "Open a company file" and click on "Next."
Navigate to the company file and double-click on the file name.