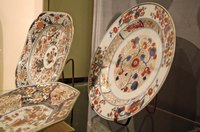 Personalizing melamine plates can be a rewarding and profitable business. If you enjoy working with melamine plates and adding personal touches to them with either your own design preferences or others, starting a business personalizing these plates could be for you. Personalized melamine plates can be used as everyday dishes as well as for decorating. All you need to start this business is the desire and ability to add personal designs to plates and a sound approach to gaining customers.
Gain experience adding designs to melamine plates. Do this at home or take an arts and crafts course that deals with designing melamine plates. Contact your local community centers, adult education centers and junior colleges for arts and crafts programs in your area.
Obtain tools and supplies for your melamine plates business. Get stencils, paints, patterns, paint brushes, etc. If you'd rather work with a kit, buy melamine plate designing kits. Find a store or wholesale plate supplier to get your plates from.
Personalize plates for a few friends and family for free. This will give you even more experience with designing and personalizing plates and show people what you are capable of. Take photos of every plate you personalize.
Create a portfolio with the photos you took from personalizing plates for friends and family. This will give your customers a chance to see what you are capable of doing before they place an order. Make a portfolio book of your work that you can carry around with you, and set up a website with an online portfolio that you can refer people to. Your online portfolio will allow anyone in the world with Internet access to see your work and place orders.
Market your melamine plates personalization business. Post ads in classified listings, both online and offline. Participate in arts and crafts online forums and market your business according to each forum's guidelines for business promotion. Sign up as a vendor at arts and crafts trade shows to help create awareness and gain customers for your business.