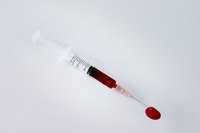 Blood plasma is used to assist in the research to find cures for disease. Blood disease affects millions of American citizens, and your plasma donation will be used to find cures, create medications and even to transfuse into patients suffering from blood disorders. Blood plasma donors are compensated for their donations, and plasma donation centers are located all over the state of Maryland. To donate your plasma you must meet certain requirements, including age and health requirements.
Locate a donation facility in the Maryland city where you live. Contact the facility to make an appointment to fill out a donor application.
Complete a physical examination. To be considered as a plasma donor in Maryland you must be at least 18 years old and weigh no less than 110 pounds. You will be tested for infectious diseases during your physical exam with the donation facility.
Attend your donation if you are approved. You will be contacted by the donation facility to set up an appointment. The initial donation takes several hours.
Receive your compensation. The fee for donation varies city by city, but usually ranges between $15 and $25 dollars per donation.