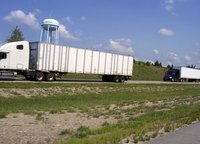 With increased security regulations in recent years, truck drivers attempting to cross the border into Canada have run into challenges while attempting to cross. Compounding such problems are individuals with DUIs or any other criminal record. Even to be hired as a truck driver with routes going into Canada, drivers may be required to have a FAST (Free and Secure Trade) card to help expedite the border crossing. The keys to crossing the border are ensuring that your paperwork is ready ahead of time and that you comply with Canadian rules regarding both your truck and yourself.
Things You'll Need
Commercial driver's license
Passport
All required paperwork for your shipment
Enroll into the FAST program if you have yet to do so. All drivers anticipating routes into Canada or Mexico should enroll in this program to expedite border crossings for pre-authorized shipments. You will need to fill out an application and turn it in at a FAST center. For more information and an application, visit the Department of Homeland Securities CBP website.
Review all paperwork at least two hours ahead of arriving at the border. You should contact your Customs broker while reviewing your paperwork and send him the paperwork at that time. This can help speed things up when you get to the border. Make sure your paperwork is in order and note whether your shipment will require an inspection from Customs. Make sure you meet truck weight standards for entering Canada, at the location where you are seeking entrance, before your arrival.
Go to the "Primary Inspection" lane upon arrival at the border. Make sure you have two forms of identification--preferably your passport and your commercial driver's license. Do not carry any type of weapon in the vehicle, including something as simple as pepper spray. Any weapon is illegal in Canada, and a firearm could land you detained and in prison. If everything is in order, the immigration official will likely grant you entrance.
Proceed to the secondary lane labeled "Secondary Inspection" if requested by the immigration official. This usually happens if your paperwork is not in order or if your shipment requires a Customs inspection. Simple follow the signs thereafter that read "Truck Inspection." Once you pass your inspection and satisfy the Customs broker, you can proceed into Canada.