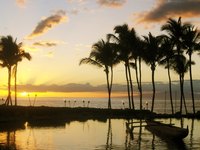 There may come a time when you find yourself far from home, with your intended return date rapidly approaching and a pressing reason not to home just yet. Whether you're simply enjoying a rare spell of sunny weather in a generally rainy destination or have encountered something that requires you to stay longer, such as an illness or family death, you can probably extend the duration of your trip. Most major airlines will charge a change fee and the difference in fare between the original flight and the new flight.
Call the airline that is operating your flight. You can generally find the appropriate phone number in the "Contact Us" section of the airline's website or in your confirmation email (if you have one).
Listen to the voice prompts on the airline's phone system. You should have an option to press a button to reach "reservations," "reservation assistance" or something similar. Press the button on your phone that corresponds to this offer.
Explain your situation to the reservation agent, and tell him your new desired return date. If the reason for your decision to extend your flight reservation is an emergency or a tragedy, such as a family member's serious illness or death, consider explaining this and asking him to waive or reduce the fees associated with the change. He may or may not be able to do this, so do not expect it.
Provide all the required information for changing your flight. This will probably include your full name and date of birth, a credit or debit card number to pay for the fees and an email address where the reservation agent can send your new itinerary.