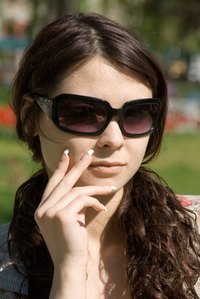 Women with wavy hair often suffer from excess frizzing and uneven waves that can make styling a challenge without the proper techniques. Add thickness to the equation and your hair difficulties can easily increase. Thickness and waves can make hair appear puffy and frizzy, with inconsistent waves. Scrunching is a simple technique that is used to help define waves and reduce frizzing, without the use of curling irons. When done correctly, scrunching thick and wavy hair can give your hair an effortless, but stylish appearance.
Things You'll Need
Moisturizing shampoo
Moisturizing conditioner
Hair styling product for wavy hair
Blow dryer with diffuser
Wash your hair using a moisturizing shampoo, as wavy hair can often tend to be dry. Rinse with warm water and condition using a moisturizing conditioner. Allow the conditioner to remain on your hair for three to five minutes and rinse your hair thoroughly with cool water.
Squeeze out excess water from your hair and towel blot with a thick towel. Avoid vigorously rubbing your hair to prevent excess frizzing.
Add a quarter-size amount of a light hair glaze, spray gel or other styling product that is suitable for wavy hair. Avoid using mousse, which can make your already thick hair fuller and thicker in appearance. Apply the product to the middle and ends of your hair using your fingers to distribute or a wide tooth comb.
Create four sections of hair on your head to allow for better control. Because your hair is already thick and wavy, avoid working in small sections that will make your waves smaller and tighter. Working in larger sections will create softer, larger waves.
Start on the right or the left side of your hair. Grab a handful of the hair within that section using both of your hands. Crumple the hair as you would a piece of paper. Crunch and crumple the handful of hair from the ends all the way up to the roots.
Work one section at a time, repeating until all of your hair as been scrunched into the desired look.
Allow your hair to air dry or dry it using a hair dryer with a diffuser attachment. Set the dryer on the low and cool setting. The diffused air will dry your hair gently without overly agitating the curls and creating frizz.