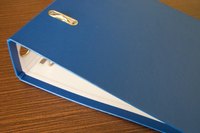 Sharp copiers have many available options to enhance the document work flow for an office. Among these options is document finishing capabilities. While many finishers allow for stapling in multiple positions, some include the ability to punch paper so that they fit into three-ring or two-ring binders. Having the capability to punch copies in the machine can eliminate the need to purchase pre-punched paper. After using the hole punch, the punched waste container must be emptied to allow for additional paper punching.
Open the panel on the finishing unit. The Sharp finishers are attached to the copier and can be opened and accessed by the front panel of the finishing unit.
Locate the punch waste container. Printed on the inside of the finisher's front panel will be a diagram about how to remove the waste container. As Sharp finishers vary in design, this diagram will point you directly to the waste container. The container will always be below the punch unit.
Slide out the waste container. The container will be held into place with either lever locking a "click lock" mechanism. Lowering the level or simply pulling the container out will remove the container.
Empty the container and replace. The container will slide back into place and will either "click" when secured or can be securing by a locking lever system.
Close front panel of the finisher and run test copies. If the waste container was put back correctly, the Sharp copier will be ready to make copies or prints as soon as the front panel is closed securely.