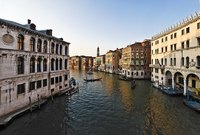 Did you just return from a vacation in Italy and say to yourself, "I want to live there?" You'd hardly be the first. Foreigners have been becoming enamored with the Bel Paese for centuries, from Holy Roman Emperors to George Clooney. Given Italy's relatively open economy, one ticket for a foreigner looking to relocate there is to start a sole proprietorship business. Italy has a large percentage of small businesses as a part of its national economy, and if you can find your niche then la dolce vita can be yours. However, it's no less challenging than starting your own business elsewhere.
Things You'll Need
start-up capital
personal knowledge or staff with knowledge of Italian language
Starting your business
Choose the right location for your company.
Southern Italy has been poorer than the northern part of the country for decades with an economy based on agriculture. Meanwhile Northern Italy is more diversified and the area around Venice is one of the most best-performing economic regions in Europe. Central Italy has the tourist hot spots of Tuscany and Rome.
So depending on whether you're looking for less costly labor, a reliable network of suppliers, well-off clientele or a steady stream of tourists, you may choose one region over the other.
Register a sole proprietorship at the Registro delle Imprese as a Società a Responsabilità Limitata, usually abbreviated to SrL with Società Uninominale in the title as well to indicate a single owner.
Italian law requires the company to have minimum of 10,000 euro in start-up funds deposited in a bank account. Required documents include certificate of incorporation and company statutes.
A visa can then be obtained from the Italian government with documentation from the local Camera di Commercio. Contact your local Italian embassy for more details.
Check local regulations as they will likely differ from your native country. For example, in Italy there is no broad requirement to label country of origin on retail products, but it is required for certain products such as cement and cosmetics.
Network, because Italians are very social people and personal connections are very important in their business culture. While many Italian business people speak English, learning the local language is an obvious advantage.
Italy is a web-savvy country and regardless of the nature of your business, having a website is an effective form of publicity and marketing.
Many Italians use Facebook and Twitter, so utilizing those for marketing, networking and public relations may benefit your business, too.