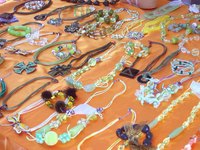 People who sell merchandise at craft shows, flea markets or trade shows may need mobile merchandise display cases. Expensive, small items in display cases may help reduce theft when crowds are looking at merchandise. Some display cases can cost between $50 to $300 depending on materials and style of the cases. However, a simple model can cost about $20 to make. Mobile jewelry display cases made from wood and Plexiglas are lightweight and easy to carry.
Things You'll Need
2 pieces of wood, 2-by-4-by-8 inches (pieces A and B)
2 pieces of wood, 2-by-4-by-24 inches (pieces C and D)
1 piece of Plexiglas, 12-by-24 inches
1 piece of wood, 12-by-24-by-1/4 inches (piece E)
2 finishing nails, 1/2 inch
Decorative foil tape, 1/2 to 3/4 inch wide
Acrylic paint
2 decorative door hinges (no larger than 2 inches long)
5-minute epoxy glue
Toothpick
3-inch square of cardboard
Screws that come with the hinges (1/2 inch long)
Screwdriver
Place wood piece E on a flat surface. This is the base of the display case. Lift up the edge, so the left, 24-inch long side is off the flat surface. Place wood piece A under the side that is lifted up, so it is 4 inches off of the flat surface. Line up the edges and nail the piece into place. Repeat this process on the right, 24-inch long side with wood piece B.
Flip the base over and place wood piece C into the opening on the edge of the top between pieces A and B. Flip it over. Nail wood piece C into place. Repeat this procedure on the other end with wood piece D.
Nail the corners of the display case together, then sand the box. Make sure the case is smooth on the inside, bottom and outside. Paint the case inside and outside. Let it dry before starting the next step.
Wrap decorative foil tape around the edges of the Plexiglas. It makes a pretty, decorative edge. It also protects people from cutting their fingers.
Decide where you would like to place your hinges. Place the hinges on the Plexiglas. On the piece of cardboard, use a toothpick to prepare your 5-minute epoxy glue according to the manufacturer's instructions. Next, glue one side of the hinge onto the Plexiglas. When you are finished gluing both hinges, toss the cardboard in the trash. The epoxy should set up overnight.
Put the base on a flat surface. Lay the Plexiglas on top. Open the hinges and place the open side onto the side of the wood. Screw the hinges into place. This completes your display case.