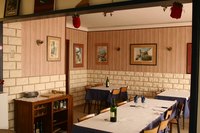 Restaurant management can be a daunting task. Attention to detail and multitasking is a must. Restaurant managers are in charge of the building, the food, the staff and of course, keeping the customers happy. It is important to constantly be checking on different aspects of the restaurant to make sure everything is running smoothly. Popping in and out of each area and even the outside is very important as well as keeping an active dialogue with the staff.
Check the outside of the restaurant daily. Look for burnt out bulbs, sloppy grounds keeping, parking lot upkeep and cleanliness of the actual buildings, walls and awnings. Call the landlord for repairs, or if it is a privately owned building keep a list of local maintenance companies that can quickly take care of these aesthetic issues.
Maintain an accurate inventory of product. Count "big ticket" items nightly, such as steaks, meats and deserts. Perform a complete inventory weekly. Match the weekly inventory to previous weekly inventories to decide what products should be ordered more often, and what products should be ordered less. Pay special attention to expiration dates, as one expired item can affect healthy, nonexpired items by cross-contamination.
Contact the city/state health board. Ask them for the qualifications for health inspections (these will be made available if asked for). Take the list of qualifications and turn it into a checklist by making several copies and dating them every day of the month. Each day go down the list of qualifications in the morning to make sure the restaurant is up to code, as the health department reserves the right to inspect any business without prior notice.
Talk to members of the staff during each shift in both the kitchen and dining areas. Make sure all staff members are taking care of their guest or responsibilities without being overwhelmed or flustered. Ask staff members who are not busy to lend a hand to help staff members that are behind. Watch the food that comes out of the kitchen. Check to see if all the dishes are coming out hot and correctly, in a reasonable amount of time. Guests should not have to wait more than 14 minutes for food unless it is a special preparation.
Walk around the dining room and occasionally pick a random table and ask the guest about his experience. Inquire if he had fast, friendly service and if the food was delicious. Take this random sampling of information and apply changes to the restaurant if necessary--if the guest did not enjoy the food.