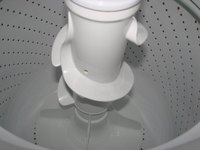 A hazard of outdoor experiences in the United States is exposure to poison oak, a shrubby or vining member of the sumac family. It is common in all ecosystems, and all plant parts have an oil called urushiol. Wherever urushiol touches skin, in most people an itchy rash develops. First exposures don't generate the rash, but they sensitize you—unless you are among the 15 percent to 30 percent of the population who never become sensitized to poison oak, according to Dr. Alan Greene of DrGreene.com. Prompt washing can prevent the oil's spread and the reaction's severity.
Things You'll Need
Rubber or disposable gloves
Washing machine
Outdoor hose
Water
Mild soap
Rubbing alcohol
Cotton balls
Shower
Safety glasses
Pet shampoo
Towels
Tecnu (optional)
Washing Skin and Hair
Put on rubber or disposable gloves, remove clothing and shoes and put them in a plastic bag for later washing.
Take a shower rather than a bath as soon as possible. Greene says that if oil can be removed within five to 10 minutes after exposure, the rash can be prevented or minimized. The running shower water will flush the urushiol down the drain. Bath water can deposit the urushiol on the tub surface for re-contamination, according to the Ohio State University Extension. If water is not available, wash with rubbing alcohol and cotton balls, or just pour the alcohol over your skin.

Use hot water and mild soap, but do not use a washcloth. Rinse thoroughly, and scrub under your fingernails, says Medline Plus.
Washing Clothing
Put on rubber or disposable gloves, and remove all clothing and shoes.
Put your clothes and shoes in a plastic bag until after cleaning skin and hair.
Put all clothing and shoes, if washable, plus the towel used for showering, in the washing machine. Wash in hot water with detergent. Don't combine contaminated clothing with uncontaminated laundry. Discard the plastic bag.
Put the washer through an extra hot water cycle to help rinse urushiol from the machine.
Clean the washer dials, controls and external surfaces with rubbing alcohol if there was any chance they picked up any urushiol.
Washing Other Items
Retrace everything touched since your exposure to poison oak. It all has to be washed or cleaned. This includes steering wheels, auto seat covers, wallets, purses, work equipment and cell phones.

Put on rubber gloves or disposable gloves. Do not touch anything that might have the urushiol on it.
Launder anything washable in hot water with detergent.
Clean items such as tools and toys by soaking in rubbing alcohol and then washing off outdoors with water.
Clean more fragile items with rubbing alcohol and cotton balls or swabs.
Washing Pets
Do not touch your pet with bare hands if it has been touched by the exposed person or if it has touched the poison oak directly. Wear rubber or disposable gloves and safety glasses. Work outside with a hose. If the pet touches clothing before it has been bathed, the clothing needs to be taken off as soon as possible and washed.
Apply a pet shampoo that will loosen the oil from the pet's fur. Lather all parts of your pet's body.
Rinse the pet thoroughly with lots of clean water. Direct runoff away from further contact with people or pets. Prevent dogs from shaking off water before they are well-rinsed.

Launder any towels used to dry the pet as with hot water and detergent.