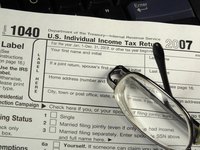 Tax deductions allow you to decrease your income subject to taxes. Common deductions include mortgage interest, charitable donations, student loan interest and contributions made to a traditional IRA. However, the amount of your tax benefit from these deductions depends on your marginal income tax bracket. The higher your marginal tax rate, the more the deductions will decrease your taxes due.
Consult your tax return to find your total taxable income. If you have not filled out your income taxes yet, estimate your total taxable income.
Use the most recent version of Internal Revenue Service Publication 17 to find your marginal income tax rate based on your taxable income and filing status. For example, if you are single and have $58,000 in taxable income, your marginal tax rate would be 25 percent.
Multiply your marginal income tax rate by your deduction value to figure out your tax benefit. Finishing the example, if you had a $4,300 deduction for student loan interest, you would multiply $4,300 by 0.25 to find that the tax benefit for your student loan interest deduction would be $1,075.