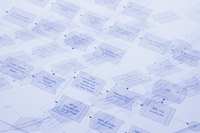 Flowcharts use predefined symbols to break down and illustrate large and sometimes complex processes into a visually understandable format. The process is broken down by steps, and then those steps are assigned to the standard shapes of diamonds for decisions, circles for starts and ends and rectangles for overall generality. Directional arrows between the shapes show what happens to an item or data as it passes through the process. You can make a flowchart by hand or through the use of special flowchart software.
Things You'll Need
Word processing software (optional)
Flow chart software (optional)
Write on a piece of paper each step involved in the process you want to document. For example, write "Start, customer requests item, find out if item in stock, package item, label item, ship item to customer."
Grab another sheet of paper and draw a circle at the top left-hand corner of the page. Write the word "Start" inside. Draw an arrow pointing down from the circle and draw a rectangle.
Write "Customer Request" inside the rectangle. Draw another downward arrow from the rectangle and then a diamond shape directly underneath it. Make sure one of the the diamond shape's points touches the arrow.
Write inside the diamond, "Item in Stock?" Draw two arrows, one from the pointy end on the right going straight out the right and one pointing down directly from the point at the bottom. Draw a rectangle to the right of the arrow extending to the right and a rectangle below the arrow from the bottom.
Draw the word "No" above the line extending to the right before the rectangle. Write inside the the rectangle, "Customer Picks Different Item." Write "Yes" next to the arrow pointing down from the bottom.
Write "Package Item" in the bottom rectangle with another downward arrow from the bottom of that rectangle. Draw another rectangle. Inside the next rectangle write "Label item."
Draw another downward arrow from the bottom and final rectangle. Write inside the final rectangle "Ship Item."
Create a final downward arrow and draw another circle. Inside the circle, write "End."