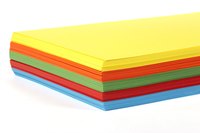 Some HP Officejet all-in-one printer, fax and scanner machines feature a "backup fax reception" feature for storing previously received faxes. This feature is commonly used as a backup in the event that the machine runs out of paper while receiving a fax. HP Officejet machines can also be configured to keep a record of all faxes in the machine's memory. With neither feature active, the HP Officejet printer will not keep a record of any faxes. Retrieving faxes stored in a HP Officejet's memory will only take a few seconds.
Print Faxes From Memory
Make sure paper is loaded into the HP Officejet.
Press the "Setup" button.
Select "Tools" from the menu, then "Reprint Faxes in Memory."
Wait as faxes are printed. The most recent documents will print first. Press "Cancel" to stop printing faxes from memory.
Set Up Backup Fax Reception
Press the "Setup" button.
Select "Advance Fax Setup," then "Backup Fax Reception."
Use the arrow keys to select either "On" or "On Error Only." The second option, "On Error Only," means that the HP Officejet will only store faxes in the event of an error, such as running out of paper.