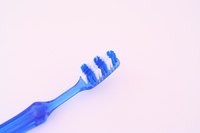 Aside from using salt to season food and clean surfaces, salt is an effective substance with which to clean teeth. Cleaning teeth with salt whitens the teeth, contributes to healthy gums and helps remove plaque. Long before commercial toothpaste was made, people cleaned their teeth with salt and other supplies commonly found in the kitchen.
Things You'll Need
Plastic zip bag
1 tsp. table salt
Rolling pin
Bowl
2 tsp. baking soda
Spoon
Toothbrush
Pour 1 tsp. table salt into a plastic zip bag and seal the bag.
Roll a rolling pin back and forth over the plastic zip bag to pulverize the salt into a fine powder. This makes the salt less abrasive on the teeth.

Empty the plastic zip bag into a bowl. Add 2 tsp. baking soda and stir the two ingredients well with a spoon.
Wet your toothbrush and dip it in the salt and baking soda mixture. Brush the teeth as usual, making sure to brush near the gum line. Rinse the teeth with plain water.