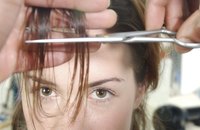 Highlight caps are useful devices for accurately targeting sections of hair which are required for bleaching. They can be purchased from most beauty supply stores or drug stores.
Things You'll Need
Highlighting Kit
Gloves
Bleach
The Highlighting Process
Put the cap on your head, then use the metal hooks to pull the desired strands of hair through the holes. The remaining hair will stay protected by the cap. For a subtle effect, only pull a limited amount of hairs through.
Don a pair of plastic gloves, and apply the bleach to the strands of hair that are pulled through the cap. According to the Hair Boutique website, you should start bleaching at the back of the head and work round to the front, applying quickly so the strands bleach evenly.
Read the instructions in the bleaching kit to find out how long you should leave the bleach on the hair. The Hair Boutique website advises you to check your hair often when the recommended time is almost up in order to prevent the hair being damaged through overprocessing. When the process is complete, rinse the product out and condition the hair.