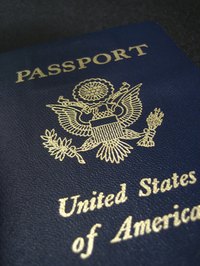 If you are planning a trip outside the country, place ordering a passport at the top of your to do list. While it only takes a few minutes to book your trip, it can take an hour or two to order your passport. In order to make sure you are ready, begin the passport application well in advance of your trip and allow at least four to six weeks for delivery of your passport.
Download the U.S. Department of State Application for a U.S. Passport form. A link to this form is provided in the Resources section of this article. Print out the form.
Complete the application portion of the form. Make sure to record the requested information accurately and completely. Failure to do so can result in delayed delivery of your passport or denial of your application.
Gather proof of your citizenship to include with your passport application. Acceptable proof of citizenship includes one of the following items: a previously issued U.S. passport; a city, county or state certified birth certificate; a Consular Report of Birth Abroad or Certification of Birth; a Naturalization Certificate; or a Certificate of Citizenship.
Take or select an acceptable photo to include with your passport application. This photo will be displayed on your actual passport and so it must meet certain criteria. The photo must be: in color; 2 x 2 inches in size; printed on thin, photo paper; taken within the past 6 months in normal street clothes; a full front view of your face with a plain white or off white background; and measure between 1 inch and 1 3/8 inches from the bottom of your chin to the top of your head. The first page of your passport application includes a size template for passport photos. Your photo should fit perfectly inside this template.
Do not select a photo in which you are wearing dark or nonprescription eyeglasses, a hat or headgear or a uniform.
Print two identical copies of the selected photo.
Select a form of identification to present with your application. Acceptable forms of identification are: a previously issued passport; a naturalization certificate; a valid Driver's License; a current city, state or federal government I.D.; or a current military I.D.
Make a photocopy of the front and back of the identification you are presenting. Make the copy on plain white, 8 ½ x 11 paper. Place the copy on one side of the paper; do not submit double sided copies. If necessary, you can use two separate sheets to copy each side.
Locate your local Passport Acceptance Facility using the U.S. Department of State Passport Acceptance Facility Search Page. A link to this page is provided in the Resources section of this article. Take your application, proof of citizenship, two photos, original identification and copies to the facility.
Some facilities require appointments so make sure to call beforehand to make an appointment or check whether or not walk-in applicants are accepted.
Submit all of your documentation and the required fee to the Acceptance Facility. The passport fees vary depending on the type of passport and any additional services you might request. As of August 2010, the fee for an Adult Passport Book is $110 plus a $25 Execution Fee.