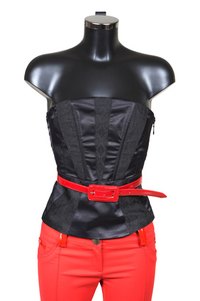 Correctly complementing red pants might seem to be an intimidating task at first thought. But by following a few simple outfit color scheme guidelines, you can make a bold fashion statement in red pants. With a little outfit planning, anyone can wear an outfit based around red pants that looks as if it's expertly designed.
Choose two complementing colors to go with the red pants. Red is a bright and bold color, so wearing more than two complementing colors will make your outfit feel cluttered. Good colors to complement red pants include white, black, beige, brown and gray. Neutral colors complement the red without making the outfit seem too bright.
Designate one of your two complementing colors as the primary and one as the secondary. For example, if you've chosen beige and black as your colors, pick beige to be your primary color then black as your secondary. With beige as your primary color, you might wear a beige blouse with black shoes and a black belt. This makes your outfit appear well planned.
Wear red accented jewelry to complement your red pants. Red jewelry will bring a subtle red overtone across your entire outfit, pulling it all together. If you are a woman wear a necklace with a red pendant coupled with a red toned bracelet. As a man, wear a red tie or red toned ring will to help tie your outfit together.
Complete your look by styling your hair and makeup before going out. Wear makeup that is based around your color scheme. For example, with a red and black outfit, smoky eye shadow and bright red lipstick will truly complete the look. Also, a red accent in the hair will add a stylized appeal to your overall look. For example, long hair can be tied up with a red ribbon as an accent to the red pants.