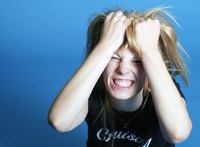 The most common kind of acne is the painless yet very noticeable whitehead, and unless you want to see these pimples for a while, you will need to pop them. While some health professionals frown on "popping pimples," it is a common practice among developing teenagers and acne sufferers. If you have decided to pop your own whiteheads, then you need to do so safely, so as not to leave behind scars. Avoid spreading the oils and bacteria by cleaning your skin before and after you remove the bumps.
Things You'll Need
Soap
Cotton ball
Rubbing alcohol
Metal loop extractor
Paper towel
Towel
Wash your hands with soap and water and then dry them.
Dampen a cotton ball with rubbing alcohol. Rub the cotton ball over the infected area, wiping away surface oil and germs.
Sterilize the extractor by placing it under hot water for one minute. Dry the area with a dry towel. Dip the loop end of the extractor in the alcohol for two or three seconds.
Set the loop extractor on a clean paper towel and set it to the side.
Fill your sink halfway with hot water. Put a towel over your head and breathe in the steam. Linger over the steam for about five minutes. This will open pores and make removing the whitehead easier.
Center the loop extractor over the whitehead. Press down lightly, placing pressure on the skin around the bump. The extractor will force out the whitehead. Wipe away the bacteria and oils with a cotton swab and then reapplying alcohol to the area using more cotton swabs.