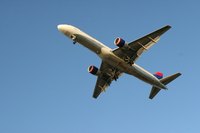 According to research by the Travel Industry Association of America, the travel and tourism industry generates $1.3 trillion in economic activity in the U.S. every year. Travel service experts offer a wide range of services to clients such as selling tickets for airlines, cruise lines, trains, and other modes of transportation, giving advice about visas and passports, and helping to arrange an event in a tropical location. An international travel agency can specialize in foreign travel to a specific group of countries or continent. They can be home-based or specialize in a niche industry, or they can be part of a franchise.
Create a business plan for your international travel agency. Include the general idea of your travel agency. Note the target demographic you're planning on serving. Determine if you will focus on honeymoons and family vacations, eco-trips, business travel, or a more specialized niche. Determine the costs you'll need to start this business. According to entrepreneur.com, start-up costs for travel agencies can go anywhere from $4,000 thousand to around $20,000. Since you will be specializing on international travel, the costs may be on the higher end. Include in your business plan any financing you might need such as loans or grants. Also include if you plan to reach your audience through a website, storefront, or both. Note both online and local competition.
Choose the operational style of your travel agency. You can start a home-based travel agency, open a franchise in your city, become an independent contractor for an established agency or start a specialty/niche travel service. Home-based agencies have a huge profitability potential due to low overheads and accessibility to online resources. According to entrepreneur.com, "thanks to the internet, home-based agents have at their command all the same tools that used to be available only at a traditional brick-and-mortar travel agency." Franchises usually have the highest overhead costs but can potentially become profitable right from the start. Choose a style based on your personal interest and financial capability.
If you're starting a specialty travel service agency, enter the field by specializing in tours and packages specific to a group. For example, you can specialize in wedding vacations, luxury travel, eco-tours, or very specific niches such as tornado-chasing expeditions, vacations for the physically-challenged, or tours to archeological dig sites.
Establish an online presence. According to entrepreneur.com, "customers today are very comfortable buying all kinds of services via the internet, and in fact, they look rather askance at companies that do not have an internet presence." Build a website with the capability of processing credit card orders by connecting with services such as Google checkout or authorize.net. Include contact phone number and email address. Show your service packages and travel discounts on your website. Synchronize customer orders with the airlines and hotels included in your packages.
Promote your travel agency. Some low-cost ways to promote your services are an online and paper newsletter, writing feature articles, and public speaking. You can also place ads in your local travel magazines or publications specific to your niche audience. Include information on your website and newsletter about things to know traveling abroad. Providing useful content to your readers can help you build repeat relationships.