Things You'll Need
Dental visit
Dental probe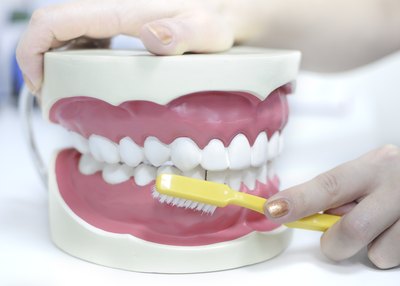 Periodontal disease starts with an infection of gum tissue, called gingivitis. Unchecked, periodontal disease may proceed to periodontitis, which damages the bone and fibers holding your teeth. Most people who develop periodontal disease are in their thirties and forties. Gingivitis is a reversible condition, whereas periodontitis is irreversible. All stages of periodontal disease are accompanied by specific signs and symptoms. A dentist can measure the severity of periodontal disease with a dental probe. Although the later stages of periodontal disease cannot be cured, they can be treated and stopped from proceeding to tooth loss.
Step 1
Examine your gums when you brush your teeth with your tooth brush or when you floss. If you brush or floss your teeth and your gums start to bleed, you may have gingivitis, the first stage of periodontal disease. Visit your dentist. At the visit, the dentist may insert a dental probe between your tooth and gum to measure the depth of the crevice. If the crevices are 3mm (about one eighth inch) or less deep, you don't have periodontitis, but need to be treated for gingivitis. Gingivitis is caused by plaque, a soft sticky material containing bacteria, that releases toxins and can cause gum inflammation.
Step 2
Examine your teeth to see if they seem longer. Periodontitis starts when your gums start to pull away from your teeth. You may still have bleeding and puffy gums. At this stage, when the dental probe is inserted into the crevice between your teeth and gums, it will measure 3 to 5 mm (one eighth to three sixteenth of an inch). The deeper crevice is now called a "pocket" and plaque will start to move downward toward the the roots of your teeth. When plaque accumulates, it will mix with minerals in the saliva and start to harden into calculus or tartar. This hard material and the toxins released by bacteria will start to destroy the fibers and bone that support your teeth.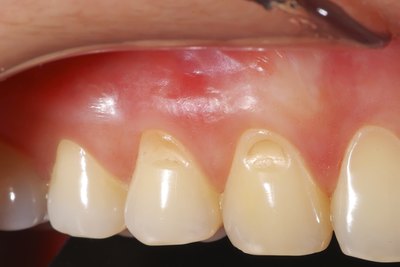 Step 3
Check your mouth for loose teeth and changes in your bite. Bad breath, a bad taste in your mouth and puss draining from between your teeth and gums, when pressed, often accompany this stage of periodontal disease. When a dental probe is inserted into the pocket, it will measure 6 mm (one quarter of an inch) or more. At this point, the fibers and bone supporting the teeth have been severely eroded and the teeth may have to be removed.