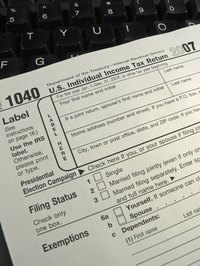 Form 1099-B is the Internal Revenue Service form used for the reporting of brokered transactions. Form 1099-B must be reported on Form 1040 Schedule D, Capital Gains and Losses. The taxpayer or tax preparer is responsible for calculating and reporting cost basis and/or capital gains and losses on Schedule D.
Things You'll Need
Form 1099 B's from any brokered transactions
Internal Revenue Service Form 1040 Schedule D
Calculator
Determine the total amount of loss by performing a comparison of the amount you realized and the cost basis of the property. The cost basis is normally the amount that you paid upon purchase. Subtract the amount that you realized from the sale from the cost basis of the property (this may include real estate or financial holdings.) The difference remaining is the amount of loss.
Make cost adjustments as necessary. In some cases, the cost basis of the property must be adjusted based on factors such as depreciation. These factors may impact the total loss figure. A list of allowable adjustments can be found at www.IRS.gov (see resources).
Deduct capital losses. While it is permissible to deduct capital losses on Schedule D, all losses must be first used to offset any capital gains of the same or similar variety. Losses must be deducted from gains, then reported. Short-term losses and gains are offset, as are long-term losses and gains.
Deduct any other eligible net losses. As long as there is a total net loss of either the long- term or short- term variety, it can be deducted from any profits. In the filing year ending in 2012, up to $3,000 of capital gains losses can be deducted from other types of income, including salary, for single tax filers. If you use the married filing separately tax filing status, you may deduct up to $1,500 of capital gains losses from your salary or other income.