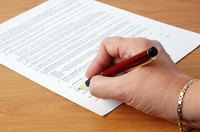 A beneficiary individual retirement arrangement (IRA), or inherited IRA, passes from its deceased owner to a designated beneficiary. If you inherit an IRA from anyone other than your spouse, according to Internal Revenue Service (IRS) Publication 590 (2009), you cannot treat it as your own. Because of that, you don't have the privileges that IRA owners ordinarily have, such as making contributions, rolling funds over and naming beneficiaries. You may, however, re-title the account and gain more control over it. IRS guidelines must be followed when titling a beneficiary IRA; mistakes are costly because you may incur tax on the amount you inherited.
Things You'll Need
Identification documents
Deceased account owner's death certificate
Choose a financial services firm with which you want to hold your inherited IRA. It does not have to stay with the firm that maintained it for the deceased owner. If you have a financial adviser, you can keep it with her for consolidation purposes.
Request two statements (current and previous) of the decedent's account from the current account custodian. Ensure you receive all pages of the statement rather than just the first two or three pages.
Complete paperwork to establish the new beneficiary IRA and to transfer the funds. It's necessary to fill out the new account application and sign a trustee-to-trustee transfer request. Take the statements you received from the current custodian, your identification documents, death certificate of the deceased account owner and your Social Security card.
Per IRS regulations when you title a beneficiary IRA, include the name of the deceased account owner, the name of the beneficiary and an indication that it is an inherited IRA. Thus, when filling out the paperwork, title the new account in one of the following ways: "John Smith, for the benefit of Robert Smith"; "John Smith, FBO Robert Smith"; "Robert Smith, beneficiary of John Smith, (deceased)" or "John Smith, deceased; Inherited IRA for the benefit of Robert Smith, beneficiary."
Review your first account statement. Ensure that your name and the name of the deceased account owner are spelled correctly and that all funds were transferred.