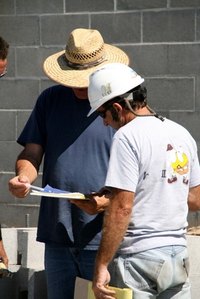 Before you hire any contractor for your home or business, be sure to check their insurance and bonding. By following easy steps, you can be sure the contractor has insurance to indemnify you for certain losses and to take care of injuries that might occur at the job site. You will also have the peace of mind that comes with knowing your contractor is bonded for the type of work he was hired to perform.
Ask for the name of the contractor's insurance agent. By simply asking the contractor for proof of insurance, you give a dishonest contractor the opportunity to provide you with a false, outdated, or doctored document. By calling his insurance agent directly, you will see whether he is dealing with a local company--which may be important if he claims to be a local contractor--and you will ensure that you get a document that is up to date and legitimate. This is a common practice and the agent should willingly give you the information. If for some reason they refuse, ask the contractor to have their agent send you a certificate of insurance directly with a cover letter from the agency.
Require a certificate of insurance.There are many ways to show evidence of insurance, but the most commonly accepted form is called a certificate of insurance, and any agency that deals with commercial insurance will know exactly what you want. This document will have your name and address shown in the "certificate holder" box and will state that, as of the date of your request, the contractor's insurance is in force. It will also show the limits of liability coverage.
Ask for proof of bonding if needed. You can also ask the agent about any bonds that the contractor carries. In some cases, a contractor will not need any bond at all. In others, they will have to have a bond for the city or municipality to show they are in compliance. In cases where the contractor is spending significant time in your home without supervision, you can ask them to provide a bond that will indemnify you for stolen items. In the case where your contractor is performing a very large job, you can ask them to provide a bid and performance bond. This will ensure that they meet the terms of their bid and complete the job as agreed, or else the surety company will pay you.
Be aware that an insurance policy is not a warranty and take precautions. Many people obtain a certificate of insurance and then assume that the insurance company will take care of anything that goes wrong with the project. In most cases, coverage is limited only to bodily injury or property damage that the contractor causes. But damage to the piece of property they are actually working on, or damage to work that they have already performed, is often excluded. Design and engineering errors are also excluded, unless the certificate shows that the contractor carries engineer's professional liability insurance. At the end of the day, your best assurance is to use a contractor who comes with recommendations and is present while the work is being performed.