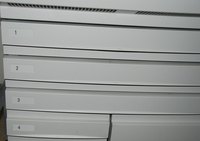 Most Canon copiers manufactured after 1999 are digital machines. One of the advantages of digital copiers is that they can be connected to a network and serve as an office printer, fax machine and scanner. Only digital machines can provide these multifunctional features and must be configured with the appropriate hardware installed. As long as your Canon copier is a digital machine and is equipped with a print board, it can be connected to a network.
Load model-specific print drivers on to the network print server. The drivers for your Canon were most likely shipped on CDs with the machine or can be downloaded from the Canon website.
Designate an IP address for the Canon copier. You will need a unique IP address for the Canon copier, which will be used in step 5.
Connect the Canon copier with network cabling. Depending on your network, use the appropriate cable type and plug it into the printer port on the Canon copier. The location of the printer port depends on the model, but it is usually on the back or side of the unit.
Press the "Additional Functions" button on the copier's front panel. This will open up a menu on the touchscreen.
Press the "Printer Settings" tab and input an IP address and subnet mask information into the machine.
Load drivers onto the computers that will be printing to the Canon copier so users to print to it.