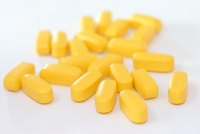 Recovering from adrenal fatigue can be a complex, lengthy process. One of the key nutritional supplements that people take as they heal is pantothenic acid, which is also known as vitamin B5. One adrenal gland sits atop each kidney and when these glands become depleted as a result of issues like prolonged stress and exhaustion, adrenal fatigue can result. Adrenal fatigue occurs when the adrenal glands function below normal levels. Numerous symptoms of adrenal fatigue can affect the entire body, with crushing fatigue being one of the most telltale symptoms. Adrenal fatigue is relatively common, especially because so many people chronically lead high-stress lifestyles.
Determine whether you have adrenal fatigue, and if you do, the severity of the dysfunction. Do so by completing a saliva cortisol adrenal test as well as self tests, such as answering the questionnaires in Dr. James Wilson's book "Adrenal Fatigue: The 21st Century Stress Syndrome." Your health practitioner can order the saliva adrenal test for you, or you can order it on your own through an online health test organization, such as Canary Club.
Establish how much pantothenic acid is needed for your condition per day, based on what a health practitioner advises and on the severity of adrenal fatigue. Dr. Wilson's guidelines range from about 750 to 1,200 milligrams of pantothenic acid per day.
Resolve whether it makes the most sense to get the needed pantothenic acid within a B complex supplement or in a separate, standalone pantothenic acid supplement. Some people take B complex that contains some pantothenic acid, plus a supplement containing pantothenic acid only.
Research the various pantothenic acid supplements that are available. Not all brands and supplements get created equally. To find superior sources, read reviews of B5 supplements at online vitamin retailers' Web sites, and ask your health practitioner which supplement she recommends.
Figure out how many tablets or capsules of a B5 supplement or B complex you need to take per day. Consider whether to divide your dosage throughout the day. For example, if you need to take 750 milligrams of B5 per day, get 250-milligram capsules and take them three times per day.
Ingest pantothenic acid daily in the dosage needed. Divide the dose throughout the day, taking some pantothenic acid more than once per day. Try to take it at the same time every day. Dr. Wilson specifies at adrenalfatigue.org, the times of the day that are the best times to take adrenal-healing supplements.
Take pantothenic acid for the length of time needed and until the adrenal fatigue recovery is complete. Healing can take time--months or years--so patience becomes important. Work with a health practitioner to assess recovery and to determine when you can reduce the daily dosage of pantothenic acid or when to discontinue taking it.
Consume pantothenic acid daily or regularly even after adrenal glands have healed, if needed, for "maintenance" purposes and to prevent adrenal fatigue from recurring in the future. Consult your practitioner for guidance on this.