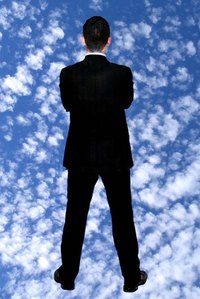 Webster's defines myopic behavior as "a lack of foresight or discernment," or "a narrow view of something." The term is most often used to describe short-sighted corporate or business-management practices. While myopic behavior can prove beneficial in the near term, more often than not, such behavior is detrimental to long-term success.
Things You'll Need
Vision statement
Business plan
Market research data
Business strategy
Company goals
Establish a clear vision statement for your company. A vision statement defines the company's purpose as well as its current and future functions. A clearly written vision statement considers the big picture. It also clearly describes how individual pieces fit together in order to create that picture.
As an example, the vision statement of a flooring company might be, "We strive to provide the best flooring at the best prices. We do this by monitoring new trends, investigating new products, continually updating our product line and comparing our prices to those of our competitors." Having a vision for your company that clearly defines current and future functions will help to provide a clear guideline for continued business success.

Anticipate future trends in the market. Myopic behavior in business management often fails to anticipate market trends. Since the consumer market is constantly changing, most businesses need to both understand current trends and anticipate future ones. Business success is often directly related to your ability to change and adapt along with the market. Whether you hire a market research specialist or subscribe to journals and periodicals that keep you up to date regarding new products that impact your company, it is vital you keep in touch with the ever-changing market.

Set short, mid-range and long-term goals for your company. Short-term goals can be seen as goals that can be accomplished over the next several weeks or months. Sales and marketing goals usually fall under short-term goals. Incentive programs are often used to encourage employees to meet these types of goals.
Mid-range goals generally include goals to be achieved over the next one to two years. Increasing productivity, expanding existing product lines or introducing new products and services can all be a part of your mid-range-goal plans.
Long-term goals should include an expanded vision for the company. Long-term goals generally have a time frame of three to 10 years, depending on the nature of the business. These types of goals may include plans for franchising, acquiring additional locations, expanding existing locations or increasing market opportunities and reaching out to new target markets.
Employ a range of business strategies, rather than focusing on just one. The strategies that you use to govern your business are subject to fluctuations in the market, changes in the consumer base and the behavior of your competitors. "Cost Leadership Strategy," for example, focuses on offering the lowest price for a product or service. While this can be a successful strategy, it is also risky due to potential changes in distributor pricing and fluctuations in the competition's pricing.
On the other hand, the "Differentiation" strategy is based on marketing products or services that are unique in your target area. While this strategy can also be successful, it is mainly dependent upon your ability to hold the market. Any new business that begins to offer the same service or product can potentially undermine your strategy.
In order to prevent myopic behavior in designing your business strategy, utilize a combination of tactics. A good business strategy is one that anticipates changes in the field and utilizes several basic business concepts in order to ensure success in spite of the inevitable changes that arise in the world of business.

Anticipate expenditures and budgets well in advance. Myopic behavior focuses primarily on the here and now. While a monthly budget is a necessity in any business operation, an annual budget and a five- or 10-year budget are also necessities for long-term success. Consider both long- and short-term goals when working with budgets. Set timelines for achieving financial milestones, and budgets for financing your mid-range and long-term goals.