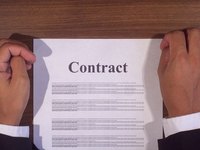 As the economy, work environments, employers and working conditions change over time, labor contracts often need to be negotiated to suit the fairness of the employer and employees. Various aspects of a labor contract need to be considered when it is time to negotiate, including benefits for the employees, overall work conditions and environment and wages. While negotiating labor contracts can lead to arguments, stay professional and calm. It is better to stay productive than argue, if you want to negotiate effectively.
Review the contract you want to negotiate. Highlight the areas you want to negotiate or change and write two or three suggestions to replace the current contract item. Remember to be fair in your suggestions. For example, raising pay 100 percent is not a fair suggestion. Instead, suggest a lower increase in pay and present the possibilities for the employer if such a raise was implemented.
Re-read and review each section and your list of suggestions before entering the negotiating meeting. It is better if you know the items clearly and can memorize them, including each of the suggestions.
Analyze each of your suggestions and determine what a response might be. Have an alternative or solid argument for your suggestions, including the other party's responses, questions or concerns regarding your suggestions; be ready to explain them in detail.
Make a list of things you are willing to accept for the things you want. For example, an employer may not be able to give you full health coverage and a raise in wages. Accept a partial health coverage plan or an increase in wages. Keep both employer and union, if applicable, in mind, so you do not appear greedy.
Enter the negotiating meeting and conduct yourself professionally at all times. Stay calm and speak only when you have the floor. Interrupting can appear rude and can reflect negatively on you.
Take breaks if you need them to gather your thoughts or if the negotiating becomes heated. Since negotiating often becomes a battle of needs and wants, arguments can occur. You should only negotiate when there is no tension in the room and everyone is calm.
Listen to other alternatives. Keep in mind that negotiating is not about what you and fellow workers want, but also what works well with your employer and union, if applicable. Keep this in mind if suggestions are made you did not consider in your planning.
Express your concerns if an offer is made with which you disagree. Do not simply state that you do not agree, but bring valid points on the table. For example, these concerns could be drastic cuts in wages, little to no health coverage or unsafe work conditions.