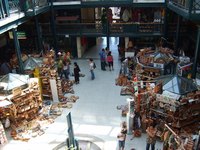 Monitoring a strategic marketing plan requires that some challenging questions have been asked, direction for the company's future has been set, and specific, measurable goals have been targeted, identified as viable, and assigned via a budget. A marketing strategy should include defining the vision on products, placement, pricing and promotion and then detailing the vision within a budget that specifies monthly goals.
Things You'll Need
Market intelligence
Marketing and operational goals
Examine your product mix. If you have one product and your market is saturated, develop another complimentary product or service that gives you more opportunity for more sales. If the market is not saturated but the sales plan is off, determine how you can adjust personnel, compensation and skill levels to make more of an impact.
If you have multiple products, examine your product mix and look at the costs associated with each product. Analyze the feasibility of obsoleting products and introducing new and improved replacements.
Determine the focus of marketing and sales groups. Provide definitive goals regarding selling new customers, servicing old customers, and give clear direction on responsibilities regarding gaining market intelligence on the competition and the industry as a whole.
Set prices based upon the market and your target niche. Reduce costs by improving processes and eliminating wastes. If product pricing is competitive, look at services and see if there are opportunities to make money offering additional services.
One example of this could be a delicatessen. If you compare a pound of salami meat from one store to another store's, the product pricing may be very competitive. However, by offering a specialty deli platter that contains salami meat with cheese and condiments and rolls, it provides you with a way to sell the meat with a service fee for preparing the platter, which might improve your profit margin.
Highly competitive markets might be significantly impacted if the product pricing is adjusted by 10 percent either way. For example, in the grocery business, milk, eggs and bread are things that consumers price shop. Stores will often sell these at cost and make their profits on other items that are less likely to be compared, such as health and beauty aids or frozen foods. Understand how adjusting your price will affect the number of units sold.
Examine new technologies and reduce costs by employing new processing methods. Review the competition and see how your pricing compares. If you have variable costs that are absorbed after a specific quantity is manufactured, determine how you can increase the number of units sold over and above that break-even price point.
Minimize overtime and special delivery costs. Adjust operations to minimize costs and increase profits by reorganizing, reducing or adding shifts or employees as necessary.
The objective of the marketing plan should be broadly focused on the needs of the overall business. Do not focus on just sales or you will miss opportunities to improve profits in other ways.
If you are losing sales to a competitor, find out why. If the quality you are producing is not equal to the competition's, adjust your niche marketing plan to align it with your product. Most products have a high, middle and low-end target audience. Impact customer perception through survey's and respond appropriately to customer perception. Improve quality and service levels through advanced staff training and quality reviews.
Examine profit margins both at the detail product level and also at the overall company level. If you have decided to offer one product at cost to sell another at high margins, examine the mix to make sure it is meeting your expectations. If not, it might be time to get rid of that low cost leader and add another product that provides more profits even if you don't sell as many units.
Product placement is another area of concern for the marketing strategist. A product must be placed appropriately for consumers to buy it when and where they want it. Review where your product is sold and make sure it is appropriate for where the customer would want to buy it. In the grocery business, a product that is placed at eye level is more likely to sell than items placed on the top or bottom shelves.
Walk through an airport terminal and you will find convenience foods, books, luggage and gift shops. The prices on these items will be higher than you will find at the local mall. This is because the costs associated with having employees bonded and given security clearance at an airport are higher but the profit margin is also more in these locations because consumers expect to pay more for the convenience of having these items in the airport. The market is captured.
Determine the best places to promote your wares and set the prices based upon the location and needs of your customers.
Product promotion includes packaging and advertising, but it goes beyond that. Product promotion encompasses the culture of the company and the reputation that it has. For this reason, product promotion extends to HR, to the employees and how they perceive they are being treated within the company; it extends to the community the company resides in, and how it treats its neighbors; and it extends to the customer service, sales, marketing, advertising, packaging and delivery groups of the company as well. These stakeholders are the folks that interface directly with the customer and influence customer perception through their attitudes. Keep stakeholders satisfied for maximum customer satisfaction.
Examine product packaging and place advertisements where the customers that want your product will see it. The Internet offers new and exciting ways to stay in touch and promote your products. Ensure correspondence is accurate and timely.
After reviewing product, price, promotion and placement, and creating a vision for the future, set annual goals for sales dollars, cost savings, and research and development investments.
At the top level of the company, you may decide to set an arbitrary goal of increasing sales by 5 percent and reducing costs by another 5 percent. The detailed budget will assign a specific piece of this goal to each functional group, such as sales, finance, operations and advertising. This means, for example, that advertising is challenged to reduce costs by 2 percent, while finance may be charged with reducing costs by 1 percent, and operations, by the balance of 2 percent.
A budget is simply a detailed plan on how money will be earned and spent within an organization. It includes head count, sales dollars, and operations or overhead costs.
Break down the annual numbers by month and by functional group ownership, taking into consideration seasonal adjustments, vacation schedules and any other spikes or peaks that might be predetermined.
The end of the month is normally the time when companies compile their numbers for periodic review. Because it takes a few days for numbers to be updated and adjusted, schedule your marketing review for the 5th day of the month and request explanations from each functional group representative on any number that is over or under 5 percent from the plan. This is called managing the exceptions, and should help focus on the risks.
If one group fails to meet its objectives, find out why. Then ask the other groups to modify their plans to compensate for the adjustment the following month. Monitor these inputs on a regular basis so that no surprises occur at the end of the year.
Setting a marketing plan requires establishing a vision based upon what customers want and what you can deliver. The strategy comes alive when the budget is defined and ownership is assigned. The marketing strategy must focus not just on sales but also on the entire business to be successful.