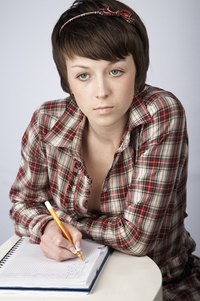 Student loans offered by the federal government, in most cases, must be repaid. A huge number of American students use these resources to finance higher education, and, therefore, there is a large outstanding balance on unsubsidized Stafford Loans, subsidized Stafford Loans and Perkins Loans. If you have an outstanding Perkins Loan and you want to settle the account, you must first make sure you are unable to make payments on the account. In addition, it is best if you already completed an Income-Based Repayment plan.
Things You'll Need
Perkins Loan account statements
Credit report
Income documents (pay stubs, W-2s)
Pull a copy of your credit report first. One of the main factors that the government considers when offering a settlement is payment history. If you have perfect payment history on the account up until the point you wish to settle, you will likely be denied. If you prove that you can pay, the government will not settle.
Pull out your income documents and calculate your debt-to-income ratio (DIR) and your disposable income. These are two calculations the federal government will use to determine your ability to repay. To calculate your DIR, divide the sum of all monthly expenses by your total gross income. A high DIR, one that the government will consider when offering settlements, is more than 50 percent. To calculate your disposable income, just subtract the sum of all monthly expenses from your total net income. The government will not consider a settlement if you have more than $1,000 in disposable income.
Pull out all other documents relating to your financial hardship. These could include disability award letters, unemployment checks, termination slips and medical bills. The more documents you have to corroborate your financial hardship, the more success you will likely have in a settlement.
Enroll in the Income-Based Repayment Plan, if you have not completed this program. This is the federal government's program in response to the huge amount of student loan defaults. This program requires a monthly payment based on your total income. The government will not offer a settlement unless you still cannot pay under the plan.
Contact each lender individually to open negotiations. As of 2010, all student loans offered by the U.S. government must originate and be serviced by the U.S. Department of Education. However, in the past, private lenders (especially Sallie Mae) offered U.S. student loans. You must speak with the direct lender to work out settlements.
Ask for a specific number. A typical settlement is one that eliminates all default fees, late fees, prepayment penalties, over-limit fees and processing fees. In addition, settlements often reduce a total loan amount by as much as 50 percent. Ask for an offer similar to this.
Counter the lender's counteroffer. You are looking for the best deal for you, but you also must make some concessions. Do not get angry during the negotiations---this could affect the settlement offered.
Get a copy of the settlement in writing once you agree. Do not agree to the repayment until you review the final agreement and sign off on it. Mail this back to the original lender and begin making payments according to the agreement. (Most lenders want to collect full settlement agreements within 1 year of an agreement.)